Despite the many great poker players who got their start in the Garden State, choosing the greatest New Jersey poker player of all time is a pretty simple exercise. The answer is Phil Ivey – widely considered one of, if not the, greatest poker player of all time.
But Ivey wasn't always a great player, although he showed promise and won the respect of his much older and wizened peers at a very early age.
No Home Jerome
When he first started playing poker in Atlantic City casinos, mostly the Trump Taj Mahal, his name wasn't even Phil Ivey, it was Jerome Graham, compliments of the fake ID he purchased from a coworker at a telemarketing company he worked for off and on.
Ivey used the ID to play poker as a teenager, and when he went broke he'd show up for his telemarketing gig and rebuild his bankroll.
There are several conflicting stories regarding the meaning of the "No Home Jerome" moniker Ivey was tagged with by the other Atlantic City poker players, and while many believe it's a testament to the amount of time he spent playing poker in Atlantic City's casinos, the true meaning behind the nickname is probably far less romantic.
According to the most credible sources, the nickname came about thanks to Ivey missing the last bus home several times and having to sleep on the Atlantic City beach.
Other origin stories list the nickname's creation coming from Ivey's propensity to go broke when he first started playing poker and being homeless – this version also has him sleeping on beaches. This version seems quite unlikely as Ivey was considered a strong player even as a teenager, and had little trouble rebuilding his bankroll during downswings.
The true origin of "No Home Jerome" is likely an amalgamation of all of these stories.
Ladies and gentlemen… Phil Ivey
When Ivey officially turned 21 in 1997, he walked into the Trump Taj Mahal, informed them that his name was actually Phil, presented them with his real ID, and got a new players club card.
From then on the legend of Phil Ivey continued to grow, first in Atlantic City and then Las Vegas.
Crushing high-stakes 7-Card-Stud
Atlantic City was a haven for seven card stud poker games in the 1990's, and by the time the millennium rolled around one of the best stud players in Atlantic City – and therefore the world – was Phil Ivey.
As Nolan Dalla explained, Ivey was beating $100/$200 Stud games before he was old enough to enter a casino legally.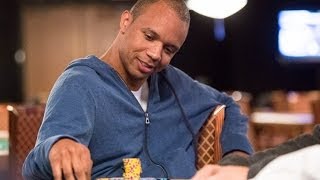 Tournament success
By 2000 Ivey had put his No Home Jerome days firmly behind him, and carved out a name for himself in the AC poker scene. Phil Ivey was one of the top young poker players, and even at this early stage of his poker career seemed destined for greatness.
Around this time, he also started traveling to play poker tournaments, probably to play in the juicy side games that followed the traveling tournament players, and he made an immediate splash.
At the inaugural 2000 Jack Binion World Poker Open in Tunica, Mississippi, Ivey grabbed a lot of attention when he won a preliminary event and final tabled three others. As Nolan Dalla has said, a lot of the older poker pros were looking at each other and wondering, "Who is this kid?"
They were just getting used to Daniel Negreanu (who made his bones in 1998 and 1999), and along comes Phil Ivey.
From Tunica it was on to the World Series of Poker.
At the 2000 WSOP, Ivey cashed in two Seven-Card-Stud tournaments, and then bested a poker legend, Amarillo Slim, during heads-up play in the $2,500 PLO event to win the first of his many bracelets.
He was 24.
Before 2000 came to a close, Ivey won yet another tournament, proving his versatility – the $500 No Limit Holdem event at the United States Poker Championship in Atlantic City.
2001 saw Ivey book 18 cashes in tournaments across the country, but unlike his breakout year in 2000, Phil was unable to book a win in 2001.
2002 was a different story.
The best player in the world
By 2002 Phil Ivey was already considered one of the top young poker players in the game by just about everyone, and was dubbed the Tiger Woods of poker. But at the 2002 WSOP, Ivey became one of the best players in the game, young or old, black or white, male or female.
Three WSOP bracelets in a single year, plus a 23rd place showing in the WSOP Main Event will have that kind of effect on your image.
Ivey's rise through the poker ranks also happened to coincide with the poker boom, and while his peers seemed to regress as a new generation of poker players took up the game, Ivey, still young himself, only got better.
What really makes Ivey so great is his absolute dominance of any form of poker. Stud or Holdem, high-stakes mixed games at the Bellagio or heads up online matches, cash games or tournaments, to Phil Ivey it makes no difference.
At one point in time Phil Ivey was considered to be the best tournament player, the best online player, and the best cash game player in poker.
In the era of poker specialists, holding those three titles simultaneously is something no player will likely ever pull off again.
Image Sean Pavone / Shutterstock.com