Saturday marks the 152nd Belmont Stakes and the inevitable enticement to rank them. With 151 races to choose from, you might think it a tall order to pick just five of the best Belmont races.
It is inevitable that my list below won't include that one horse that you think ran the best Belmont.
The beauty of a list like this one, therefore, is its subjectivity. Everybody has their lists and their reasons. Their favorites. Their beloved horses and those timeless classics.
I am mindful, of course, that this year, the Belmont is the first leg of the Triple Crown, rather than the last. The coronavirus pandemic switched up the schedule.
My top five Belmont Stakes races incorporate historical achievement, personal experience and appreciation of the media craft.
Here are my favorite Belmont Stakes races, with an added honorable mention. Four involve the near-miss or conquest of the Triple Crown.
1. The immortal Secretariat: June 9, 1973
Secretariat became the first Triple Crown winner in 25 years with this dominant effort, notching a record 31-length triumph. All of that came in the last half of the race.
He was even with Sham after three-quarters of a mile and simply pulled away to demolish the field. He set a record that still stands, at 2:24. How impressive is that?
When American Pharoah won the 2015 Belmont to secure the Triple Crown, he ran the second-fastest time ever, 2:26. In racing parlance, five lengths are considered one second when measuring performance.
By that standard, Secretariat beat the 2015 Triple Crown winner by more than 10 lengths.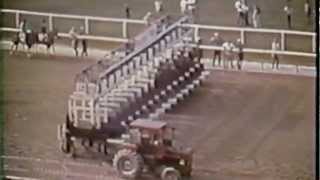 2. American Pharoah and Justify: June 6, 2015, and June 9, 2018
American Pharoah broke the 37-year drought in 2015, winning the Belmont before more than 90,000 spectators. The track had allowed in more than 100,000 in the past but capped this one at 90,000.
There had been many near-misses and flirtations with a Triple Crown sweep since Affirmed captured the crown in 1978 (another classic: he beat Alydar by a head). That's why American Pharoah's win was liberating to the horse-racing faithful.
Three years later, Justify repeated the trick. There had been no Triple Crown winners for 37 years and then two in four years.
3. 'Too Close to Call' — Victory Gallop and Real Quiet: June 6, 1998
Victory Gallop thwarted Real Quiet's Triple Crown bid in a remarkable photo finish.
What makes a horse race memorable? The stakes, the outcome and the call.
They all converged when Victory Gallop rallied from six lengths back to deny an imminent Triple Crown sweep for Real Quiet. It would have been the industry's first such designation in 20 years.
There was also a $5 million bonus on the line if Real Quiet prevailed.
Tom Durkin, one of the greatest track announcers in history, delivered a call for the ages. Word by passionate word, with timely pauses to build urgency, Durkin authored an epic stretch-duel description.
The scene: Real Quiet had pulled away from the frontrunners and looked ready to become the first Triple Crown winner since Affirmed in 1978. The horse racing and horse betting world had talked about nothing else for weeks. And now, it appeared likely.
But Durkin saw Victory Gallop gaining with each stride and anticipated the drama others hadn't.
Here are excerpts from a live, intense call to thousands in attendance and millions of television viewers, with two championship horses thundering toward the finish line. Durkin had great verbal command as his decibel level skyrocketed.
"As they arrive at the top of the stretch, Real Quiet is taking the lead. He's coming to the eighth pole. Twenty years in the waiting. One furlong to go! But here comes his rival Victory Gallop.

"As they come to the final sixteenth, Kent Desormeaux imploring Real Quiet to hold on! Victory Gallop with a final surge. It's going to be very close. Here comes the wire. IT'S TOO CLOSE TO CALL! Was it Real Quiet or was it Victory Gallop?

"If a picture is worth a thousand words, this photo is worth 5 million dollars."
Real Quiet was denied the $5 million later, but Durkin's call remains priceless. It's also the closest a horse ever got to a Triple Crown without gaining it.
4. Bet Twice denies Alysheba the Triple Crown: June 6, 1987
This is where professional and personal interests connect.
The professional: Bet Twice had lost by only 1 1/4 lengths combined to Alysheba in the Kentucky Derby and Preakness Stakes. But on Belmont Stakes day, he was strangely 8-1, fifth in the nine-horse field. Alysheba was 4-5.
Bet Twice not only denied Alysheba the Triple Crown in crushing the field by 14 lengths, but because Alysheba finished fourth, Bet Twice won a $1 million Triple Crown bonus for combined placement in the three races.
The personal: Bob Levy, who owned the Atlantic City Race Course, also owned Bet Twice. The Press of Atlantic City wanted me to cover the race.
Arriving from a rough six-hour drive an hour before post time, I saw those unusual odds. I had $68 left in my pocket and needed $8 in tolls to get home (there was no EZPass then, and the ATMs had long lines). I bet $60 on Bet Twice, $20 across the board. It paid nearly $300.
What was stranger, leaving no money in my wallet in case of emergency or not waiting in those long lines to get more cash? Deciding issue: I had to get to work.
Either way, it's a great memory.
Bet Twice later defeated Alysheba in the Haskell Invitational at Monmouth Park and the Travers Stakes at Saratoga later that year. It was one of the best horse racing rivalries ever.
5. The Filly Did It — Rags to Riches: June 9, 2007
Rags to Riches became the first filly since 1905 to capture the Belmont. That was already big news, but her manner of victory was also significant. Rags to Riches battled through the entire stretch with Curlin, who had not only won a Preakness Stakes but would later capture the Breeders Cup Classic at Monmouth Park.
Rags to Riches not only "beat the boys" but defeated the best of the batch.
Related Honorable Mention: Another famous female, jockey Julie Krone, became the first woman to win a Triple Crown race by riding Colonial Affair to victory on June 5, 1993. Krone is thoroughbred racing's all-time leading female jockey and the first woman inducted into the Thoroughbred Hall of Fame in 2000.
That's my list of the best Belmont races in history. What are your favorites?