Make no mistake, Jim McIngvale loves the Houston Astros.
On the same plane, he loves making people happy.
Where those two passions meet is why the man known as "Mattress Mack" has garnered national attention recently. Seemingly wherever he can go and with as much money as he can wager, McIngvale is placing robust bets across the country.
He's counting on the Astros to claim the franchise's second World Series in three years. Thousands of customers are as well. After all, a Houston win means a refund for them.
This is one reason why Mattress Mack is breaking out the checkbook, most recently at FanDuel Sportsbook.
Mattress Mack hedging Win It All promotion
Two states have seen record-setting wagers made within the last week. Both came from the pocket of the same bettor: Mattress Mack.
He has taken his business to Las Vegas but also taken advantage of an ever-expanding landscape of legalized sports betting, including New Jersey.
"It's great," McIngvale said while visiting FanDuel at Meadowlands Racetrack. "There's so much more capacity."
McIngvale, though, is not putting his money where his mouth is simply to exhibit his confidence in the Astros. He has other business to attend to.
Owner of Gallery Furniture in Houston, McIngvale brought back his "Win It All" promotion, similar to one he introduced during the Astros' World Series run in 2017. After Houston won the championship, McIngvale refunded more than $10 million to customers.
Like he did two years ago, McIngvale is hedging his promotion, which refunds customers who spend at least $3,000 on a mattress. Over a three-day span this week, Mattress Mack has placed $5 million on the Astros to win it all.
That includes a $3.5 million bet made in Mississippi followed by Thursday's wager of $1.5 million via FanDuel Sportsbook — the largest online bet in the history of New Jersey sports betting.
'Much more capacity' with expanded sports betting
In a way, McIngvale is like the personification of legalized sports betting.
He has traveled to Nevada, Mississippi, and New Jersey. He was on his way to New York, which debuted regulated retail wagering over the summer. (McIngvale's plans included only a television interview, but making a bet at one of New York's upstate casinos may not be out of the question. "You never know," he said.)
Potential next stops on his Astros-betting tour: Pennsylvania and Indiana, which started online sports betting Thursday.
"We'll see as it goes along," McIngvale said. "Obviously there's lots of opportunity here. The other thing is, if the Astros end up playing the (New York) Yankees (in the American League Championship Series), everyone up here might want to take the Yankees."
That creates more potential winnings should McIngvale place additional wagers on the Astros.
Regardless, McIngvale has drawn the spotlight for his sizable bets. And he has taken that spotlight across the country, shedding it on different states with regulated wagering.
"I did this same thing in 2017 and had to go to Nevada a lot to hedge it off," McIngvale said.
"The options there were so much more limited, but the Nevada guys did a great job helping me out. But there's so much more capacity with these states legalizing sports betting."
'Best thing we could ever possibly do'
Customers continue to flock to Gallery Furniture to purchase mattresses and potentially cash in on the Win It All promotion.
Sure, McIngvale could have decided to use other pieces of furniture as part of the promo. Ultimately, though, mattresses "are pretty focused and they're easy to deliver," he said.
"Everybody needs mattresses. If we did a whole house, it's a $100 million liability. Mattresses are a core business item for us."
Plus, "Recliner Mack" or "Dining Table Mack" doesn't exactly roll off the tongue.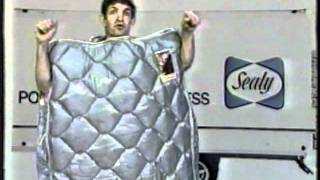 The promotion was a smash in 2017 when the Astros won the franchise's first World Series. McIngvale refunded more than $10 million because of the local team's success.
McIngvale reportedly spread $1 million around Vegas bookmakers to help limit the financial hit he would take from the promotion.
McIngvale doesn't care though. Not really. He started the promo to support the Astros. He wagers on them to support them as well as himself. Nothing beats a hometown team winning a world championship. And nothing beats seeing the joy on customers' faces.
He told the Houston Chronicle in 2017 that the promotion was "the best thing we could ever possibly do. The Astros inspired the city. We're thrilled to give this money back to excited customers. We bleed orange out here."
"It's a happy moment," McIngvale said, recalling the 2017 celebration. "Last time, we had a big party. It was a great time. The social media value of that, people taking pictures and cheering on the Astros and sending videos of them cheering on the Astros … all the PR and goodwill is absolutely priceless."
Taking his Win It All promo on the road
Choosing Mississippi as the site of his first big wager was "kind of random," McIngvale said. He's been in negotiations with operators around the country to determine how much he can wager at once.
It just so happened that DraftKings Sportsbook at Scarlet Pearl in Biloxi provided the first green light — a $3.5 million McIngvale bet that nearly equals how much the Mississippi public wagered on baseball in June, July and August combined.
At +220, an Astros championship would pay McIngvale $7.7 million. His $1.5 million wager with FanDuel (also at +220) would pay $3.3 million.
Additionally, McIngvale placed a $200,000 bet at the South Point in Las Vegas, at +250 odds, and other wagers of undisclosed amounts at Caesars, MGM, Treasure Island, and Circa Sports.
Bet $2 Win $150 or $1,000 Risk Free
NBA Special - First 2 Nights of the Season
Bet $2, Win $150 In Cash or

Up to $1,000 Risk Free Bet
To Claim: Click Play Now

Shedding light on an expanding sports betting world
But McIngvale did not want to limit his action to Vegas, specifically because of how much he can bet at once outside of Sin City.
"Let's put it this way," McIngvale said, "the people in Mississippi and the people in New Jersey will gamble a lot more than people I work with in Vegas."
In widening his sports betting gaze, McIngvale unknowingly — perhaps even knowingly — is highlighting the post-PASPA world of regulated wagering.
"The number of states having legalized sports betting is great," McIngvale said. "It gives people a chance to do this and the counties and states to make a little tax revenue.
"Just the ability to be a part of the community and cheer on the Astros and help people get free mattresses … That's why I was put on this Earth, to make people happy."