The NBA and Major League Baseball want to have a say in how sports betting will be legalized around the US, if the federal ban goes down in flames. And they certainly deserve to have a seat at the table.
Not everyone may agree with their desire for integrity fees and control over data rights as it relates to sports gambling, but they are at least somewhat defensible positions.
But the latest news about their lobbying efforts regarding New Jersey sports betting is fairly ridiculous, no matter how you look at it.
NBA, MLB want a say in … wait for it … New Jersey
According to a report from Politico, the NBA and MLB have been actively lobbying on sports betting. We already knew they were registered to lobby in the state, but we didn't know what was going on on the ground in Trenton.
Read the whole thing, but here's the scope of what leagues lobbyists have been up to:
Meetings were held with Senate President Steve Sweeney, Assembly Speaker Craig Coughlin and Peter Cammarano, Murphy's chief of staff. There was also a meeting with two of Sweeney's top staffers in the Senate Majority Office, including Gene Lepore, then the acting executive director, and Fruqan Mouzon, the general counsel.
It's one thing to lobby in other states. But the hubris and gall required to do this in New Jersey is pretty amazing.
The leagues are fighting against NJ sports betting
The NBA and MLB, after all, are both actively engaged as litigants in the New Jersey sports betting case in front of the US Supreme Court, using federal law from preventing the state to run sports betting in any form. The NBA and MLB have stood next to the NFL, NHL and NCAA in the case against the state dating back to 2012.
So, the leagues are both actively trying to stop sports wagering from taking place in the state while also telling the state how they should be doing if it becomes legal. If that sounds slightly crazy to you, you're not alone.
The leagues will tell you there's a nuance between what NJ is trying to do — namely running an end-around on federal law with a law that doesn't claim to regulate sports wagering — and the type of law it would like to see implemented. But it's still a crazy juxtaposition to be litigating against NJ sports betting and also lobbying for regulation.
[show-table name=cta-golden-nugget]
Why on earth would NJ listen to leagues?
Not everything that the NBA and MLB say on sports betting is total poppycock.
But at the same time, the leagues could have been working with New Jersey on a collaborative approach on sports betting well before 2018. Atlantic City could have used the revenue from sports wagering — and the increased traffic that would have come with it — back when several casinos were closing their doors in 2014. (The same goes for the two horse racing tracks that would be allowed to offer sports betting in the state.)
But now the leagues are telling New Jersey they have the answer to sports betting. The truth is they are only going to Trenton with their tail between their legs because they think they are going to lose the Supreme Court sports betting case. That sentiment was echoed just today by NBA Commissioner Adam Silver: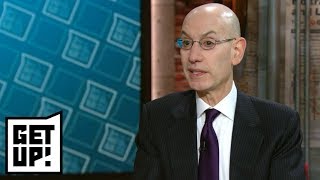 I'm fairly confident that New Jersey officials are not dumb enough to kowtow to lobbyists and give the leagues what they want in terms of direct revenue, including a cut of all wagers and control of data rights. These are two things that would take money away from both the state's casinos and tracks and the state itself in terms of tax revenue.
After spending six years and $8 million fighting the leagues on sports betting, the state and its gaming interests should turn around and cut the leagues into the business?
Good luck with that.