From the beginning, Atlantic City tried to mimic Las Vegas on a number of fronts. Unfortunately, the seaside resort town always seemed to be two steps behind the more established and glitzier casinos in the middle of the Nevada desert.
That being said, for a while Atlantic City did pull off a coup of sorts, successfully turning the Boardwalk into the Strip by luring big name entertainers and promotions to Atlantic City. One of the most successful inroads Atlantic City made on this front was the sweet science…boxing.
Trump leads the way
Spearheading Atlantic City's foray into the world of championship boxing was Donald Trump.
Sensing the connection between entertainment and gambling, Trump was a bit ahead of his time when it came to offering nongaming amenities at his casino properties. This cost Trump when times got rough in Atlantic City, but his vision laid down a foundation many others would perfect.
In the 1980's, it was Donald Trump who brought heavyweight championship boxing to Atlantic City, and thanks to a little bit of luck and fortuitous timing –at the same time Trump was bringing boxing to AC, a young up-and-coming fighter named Mike Tyson was about to capture the public imagination with some of the most devastating stoppages in boxing history.
Trump was able to promote the city as a great place for a championship fight, and was able to charge increasingly larger venue fees as the city's popularity as a boxing destination grew.
Trump also managed to leverage the plethora of Atlantic City casinos, and was able to sell millions of dollars in tickets to his competitors who then distributed them to their high-rollers.
For several years, Atlantic City was the boxing capital of the world, but in the end boxing was just another area where Trump overextended himself in Atlantic City. Trump seems to have understood what it would take to create a thriving gaming city, but came up short in execution, forcing the billionaire presidential candidate's company Trump Resorts to declare bankruptcy multiple times.
Interestingly, the fights were promoted by Trump and had featured the Trump Taj Mahal and Trump Plaza brands all over the promotional material, but they took place at the nearby Atlantic City Convention Center.
I think I can beat Mike Tyson… x4
The big fights in the 1980's all had one thing in common: Mike Tyson.
In the late 1980's nobody could get enough of Mike Tyson.
Thanks to Nintendo, boxing went mainstream, as kids of all ages were suddenly well aware of Mike Tyson's boxing prowess. And who can forget the classic DJ Jazzy Jeff and the Fresh Prince song, and one of the better music videos of all-time: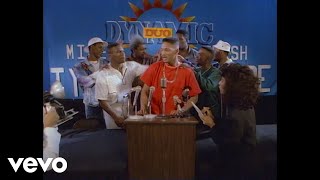 And thanks to Trump's promotions, Mike Tyson fights were becoming synonymous with Atlantic City and the name Donald Trump.
This was a boon for the city and the New Jersey casino industry.
When all was said and done, Mike Tyson fought in Atlantic City four times during his reign as the heavyweight champion of the world. The most famous of these fights was Tyson's 91-second dismantling of Michael Spinks in 1988.
Tyson also fought Larry Holmes in AC, handing the boxing legend his one and only KO loss in 75 career fights.
But Tyson wasn't the only big draw Trump brought to Atlantic City. Some of the other boxing legends who fought in Atlantic City were Sugar Ray Leonard, Larry Holmes, George Foreman, Evander Holyfield, Oscar De La Hoya, Roberto Duran, Roy Jones Jr., Floyd Mayweather Jr., Julio César Chávez, and Héctor "Macho" Camacho.
And like the aforementioned Tyson-Spinks fight, several of Atlantic City's boxing matches were wellknown affairs that have gone down in boxing lore.
Two of these fights involved two-time heavyweight champ George Foreman in the immediate post-Tyson era.
Foreman-Cooney
In 1990, a 40-year-old George Foreman was mounting an improbable comeback, and his title shot chances received a huge boost when he survived an early salvo from another aged pugilist, Gerry Cooney, in their battle in Atlantic City.
Foreman would go on to KO Cooney in the second round and used that win as a springboard to a title shot after dispatching four other lesser opponents in 1990.
Holyfield-Foreman
Foreman's comeback was big news (he was already a popular and adored celebrity thanks to the George Foreman grill and his extreme likability), and it set the stage for one of the last big heavyweight fights in Atlantic City.
That fight was former Olympic bronze medalist and current heavyweight champ Evander "The Real Deal" Holyfield vs. George Foreman, which took place in Atlantic City in 1991. For Holyfield, the fight represented his first title defense after winning the title from the man who stopped Mike Tyson, James "Buster" Douglas.
For Foreman, the fight was supposed to be the aging fighter's last chance at reclaiming the heavyweight crown – Foreman was 42 at the time of his fight with the 28-year-old Holyfield.
Even though he lost to Holyfield in a 12-round decision, the fight against Holyfield was not Foreman's last hurrah. Foreman would do the unthinkable a few years later, knocking out heavyweight champion Michael Moorer in 1994 at age 45.
The Holyfield-Foreman fight was also Trump's last big boxing fight, as boxing promoters had started looking elsewhere, which led to less money for Trump and Atlantic City, eventually making hosting big time fights a risk they weren't willing to take.