Pull up a chair, New Jersey NFL Draft bettors.
Enjoy the best seat in the house – yours – for the rookie class selected Thursday-Saturday from the heart of the Las Vegas Strip.
The Eagles' first-round pick won't come until the 15th selection Thursday Night. Of course this could change if GM Howie Roseman makes another trade.
NJ sports bettors know the first round airs Thursday at 8:00 p.m. and goes approximately 11:30 p.m. ET. Friday's TV coverage of the second and third rounds will start at 7:00 p.m. ET while Saturday's will begin at 12:00 p.m. ET.
Bettors can watch the bevy of activity on ESPN, ABC and NFL Network.
But there is little suspense about the Eagles. The team's first selection may come around 10:30 p.m. Thursday night.
For anyone without a pick-by-pick conviction in this difficult draft, which lacks marquee names, there's a more relaxed way to experience the draft – from a distance.
Here are seven observations for seven draft rounds.
1. Not like this is an Eagles vs. Raiders game
Las Vegas trips are fine and Eagles fans journeyed en masse to Sin City to watch them play the Las Vegas Raiders last October.
But do you need to be in the midst of a record 600,000 people jamming Las Vegas on Draft Week?
This is not a live game.
Your television screen will probably produce a better view than many vantage points from the Draft Theater located behind the High Roller and the LINQ.
Claim Your $1,250 Bonus at DraftKings Sportsbook

Up to $1,250 BONUS
New User Bonus. T&Cs Apply.
DraftKings Promo: Bet $5 Get $200
PLUS $50 Bonus Bet On Deposit

PLUS Up to $1,000 Deposit Bonus

Gambling Problem? Call 1-800-GAMBLER 

To Claim: Click Play Now
2. NFL Draft betting from the lounge chair is better option
"You are better off not coming here if you want to wager on the draft," Johnny Avello, the director of race and sportsbook operations for DraftKings, told PlayNJ.
"Nevada has to close the wagering 24 hours before the draft. I'm not quite sure why, but it is a gaming control-board decision. Anybody who is coming out here to watch it and bet it is going to be disappointed.
"It's one thing if you want to be involved in the party atmosphere, etc. But if you want to bet it, stay home, enjoy the in-game options and have a good time."
Eagles backers can slowly hone in on possible 15th selections a few picks ahead of time.
"We will start putting up which players or which position a team is likely to take during the course of these picks," Avello said.
The book plans to stay two picks ahead. Somewhere around the 10th pick could be the time for Eagles bettors to start digging in.
3. Turn up the volume as Roger Goodell gets booed
Enjoy watching Roger Goodell get booed.
The NFL commissioner fans and bettors love to hate may set a decibel-level over-under in a packed stadium. It might be fun to see who he brings on stage to deflect the criticism.
4. Chuckle at the plight of the New York Jets and New York Giants
The New York Giants and New York Jets own three of the top seven selections at a time when it's bad to be a weak NFL team.
There may be very little difference between whom these teams select and who the Eagles take later. But see if commentators stick with the script and talk about how Big Blue improved its team, and what a move it just made, etc. etc.
5. When will the first QB come off NFL Draft board?
Stump your friends with a trivia question (disqualify anyone who sees this post).
They may already know that a quarterback won't be the top pick for the first time since the Cleveland Browns took defensive end Myles Garrett in 2017.
But they might not know this: when was the last time no quarterback was taken in the entire first round? It was 1996 and it took until Round 2, and pick No. 42, for the then St. Louis Rams to take Tony Banks.
6. Mr. Irrelevant becomes ever more engaging
It's better to be last than next to last. Just ask Grant Stuard, the reigning award winner as the last player taken in the 2021 draft. The linebacker made the Tampa Bay Bucs last year, made an impact on their team and embraced his M.I. role with a humorous Uber Eats commercial.
While he can poke fun at himself, at least one Mr. Irrelevant became Mr. Relevant.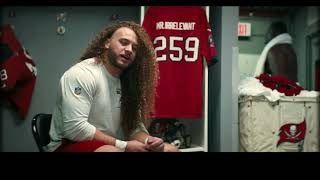 Ryan Succop is the all-time Mr. Irrelevant, a title he earned in 2009.
In 2021, he became the first Mr. Irrelevant to win the Super Bowl as a starter and active payer. He made four extra points and a field goal in Tampa Bay's 31-9 triumph over the Kansas City Chiefs, the team who drafted him and ensured that designation.
Payback, baby.
Jokes aside, the function of Mr. Irrelevant has done some serious public good. Irrelevant Week takes place every year in Newport, Calif. It celebrates the football underdog and raises more than $1 million in charities for beneficiaries like the American Cancer Society, Big Brothers, Big Sisters and Habitat for Humanity.
7. Memory lane: Debate Eagles first round NFL Draft busts
NFL Draft night is the perfect night to debate past Eagles first-round draft busts. Just select a category.
Mine is a top-5 selection, mixed with bad luck and bad vision. I will take three picks.
Heisman Trophy Winner No. 1 Jay Berwanger
The Eagles had the first pick, ever, in the NFL Draft. It was 1936. They took the first-ever Heisman Trophy winner, but Jay Berwanger didn't play for them. Or anybody.
The Eagles traded his rights to the Chicago Bears, fearing they couldn't meet his demands for $1,000 a game.
So, George Halas got Berwanger in Chicago. Offered him $13,500. Berwanger wanted $15,000. And they never worked it out.
Heisman Trophy Winner No 2. Davey O'Brien
The Eagles had another crack at a Heisman winner in 1939.
At least this guy played well. In two seasons with the Eagles, he led the league in several offensive categories. But the Birds were 2-19-1 in those years. With no free agency available, he retired.
He later became an FBI agent. Maybe he investigated why he went to such a bad team.
In any case, the Davey O'Brien Award is named for the top college football quarterback every year.
Before DeVonta Smith changed their luck with Heisman winners last year, the Eagles got exactly two wins from two of the nation's top college players.
The third bust is not a Heisman, but it was a doozy
The Eagles picked Leroy Keyes as their top pick in the 1969 draft, when they had the third selection.
The very next pick was Hall of Famer Mean Joe Greene. Hard to believe they missed that one, which compounded the two late-season wins the year before that prevented them from drafting O.J. Simpson.
Will they duplicate the Keyes miscue several years from now?
In the 2020 draft, the Eagles took Jalen Reagor with their first-round pick. The very next choice was Justin Jefferson of the Minnesota Vikings.
While Reagor has scuffled, Jefferson set a rookie receiving reception yards with 1,400, won the NFC Rookie of the Year and has played in two Pro Bowls in two seasons.
And Reagor could be on his way out.