Explore the alternative universe.
That's a tantalizing theme for Eagles vs. Cowboys and Jets vs. Patriots bettors. NFL Week 7 provides intriguing rivalry games. Alternate lines and props give value in the name of financial razzle-dazzle.
Here's a closer look at both of these primetime games:
The Birds and the 'Boys: Betting at SugarHouse NJ
The Eagles and Cowboys have bounced between Dallas -2.5 and -3 through much of the early betting in New Jersey. Given the perceived three-point value to home teams, the Eagles vs. Cowboys at face value, are even for Sunday Night Football.
If they are even halfway through this game, that's a financial bonanza accord to at least two wagers spotted with online books.
William Hill NJ had a first-half deadlock +850. SugarHouse Sportsbook offered it at +1100 according to Matt Stetz, the COO of Rush Street Interactive, which operates PlaySugarHouse in New Jersey and Pennsylvania.
"There is good value in betting the halftime tie in that game," Stetz asserted. "Compare this with another game with a lopsided spread, San Francisco at Washington. The 49ers are giving 9.5 and the payout on a halftime tie is only +1100. That's a game with a big spread paying little more than one that is considered very close."
The parity in early betting also makes that prop stand out.
Stetz said 55% of the early money was placed on the Eagles, who represent the most popular team in New Jersey and Eastern Pennsylvania for SugarHouse Sportsbook. In recent weeks, fans have been laying a lopsided percentage for or against the Eagles. This time they are nearly split, a microcosm of the game-spread itself.
New Jersey and Pennsylvania bettors not only invest heavily in Eagles games, but they have long viewed the Cowboys as a popular team, spiking the interest in this contest.
"We are expecting a lot of handle in this game," Stetz said.
"Considering that this game is Sunday night prime time and with the Eagles-Cowboys rivalry, we believe this will be one of, if not the highest games that will be bet this entire season."
Animus Animus for Eagles vs. Cowboys
Oh yes, the rivalry. This one is decorated in disdain.
Its history includes a pre-game brawl and two "Bounty Bowls," the first of which featured Cowboys coach Jimmy Johnson accusing Eagles players of targeting his quarterback Troy Aikman.
The second Bounty Bowl, in Philadelphia a couple of weeks later, produced more than 100 ejections of fans throwing snow and ice balls onto players.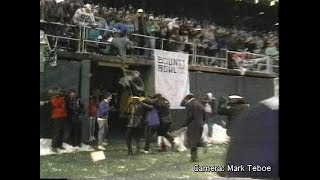 And who can forget coach Buddy Ryan's fake kneel-down and a pass tossed into the end zone when the Eagles were in victory formation against Dallas on the final play of the game? The Eagles, already up 10, won by 17. It broke the decorum of not rubbing it in on a beaten opponent.
There is no love lost between these teams, but they are also in desperate need of victory. Dallas has lost three straight to become 3-3. Philadelphia dropped to 3-3, yielding an abundance of deep-passing plays in a 38-20 pasting by Minnesota last week.
And when Philly coach Doug Pederson expressed confidence in his team early in the week, it was perceived as a victory guarantee. He was already walking back comments six days before the game.
Stetz indicated another area of value regarding the buying of the hook for Eagles bettors. They are at -103 as a 2.5 dog and only drift up to -118 with their +3 spread. That's a good deal for a valued half-point change in the spread.
And even cheaper, as in zero, if you can spot the 3 while the line bounces around.
"The line really should be 2.75," Stetz joked.
In a contrarian context, one could also surmise that the generous payout for a halftime tie in Eagles vs. Cowboys and the inexpensive purchase of a hook hints at a decisive victory for one of the teams.
That's why they call it gambling.
It doesn't take much
We have reported some massive parlay hits over the season, but there was a simple one converted last week at PlaySugarHouse.
An online bettor turned $5 into $1,143 by taking a moneyline NFL parlay with the Cardinals, Jets, 49ers, Seahawks, and Texans, according to Stetz.
When the Seahawks and Texans trailed big early, this was a longshot. After those teams rallied to win in the early games, the bettor needed the Jets to stop a two-point conversion by Dallas and for Arizona to benefit from a missed extra point by Atlanta, for the ticket to cash, in the late games.
The planets aligned. And it only cost $5 to try.
Stetz said the highest public support at his establishment this week was going to the Rams at -3 against Atlanta, with 88% of the tickets. That game has the highest over-under at 55.5.
Claim Your $250 Bonus Today!
$250 Bonus
100% Match On First Deposit
Up To $250 Bonus On Deposit

ONLY 1x Play Through!

Use Affiliate Code: PLAY250
NY Jets lean on Sam the Man
Sam Darnold was hailed as no less than the Messiah when he returned from a bout with mononucleosis and led an inspired Jets team to their first win, over Dallas, 24-22. His return, and that performance, is reflected in respect for the Jets in their line against New England. They are a 9.5 home dog at many books and began trending downward.
When the Jets and Pats met in Week 3, remember that line? New England gave a whopping 22 at nearly all NJ sportsbooks, which the Jets covered in a 30-14 loss.
DraftKings provided an interesting midweek prop for the rematch, with the over-under for touchdowns in the first half set at 2.5. It pays +123. The site listed the over-under for the game at 43.5. The Jets and Patriots are viewed as ball-control teams, but one big play can determine the path of this touchdown prop.
Like the Eagles-Cowboys, the Jets-Patriots inspire dislike for each other and betting action, period. The site also revealed potential betting sweet spots in this game. The Pats return +150 as a 13.5-point favorite, +107 as a 10-point pick, and -162 at 6.5.
Giant returns and wagers around the league
The Giants were deceivingly competitive in their 35-14 loss to the Patriots last week, allowing two special teams touchdowns. Quarterback Daniel Jones moved the ball well but made some poor throws. That pressure should be lessened with the return of Saquon Barkley to the backfield this weekend.
The Giants are -3 and have been a poor home favorite, but they should at least be entertaining. DraftKings expects a shootout and has the over-under at a whopping 50.5, second highest in the league.
The biggest line mover by midweek was the Packers-Raiders, opening at 7 and drifting to 5.5 at several books.
A spokesman at the Westgate in Las Vegas said early data indicated heavy action on the Titans hosting the Chargers, with the line going from Tennessee giving a half point all the way up to giving three. That line is expected to bounce in between those two spreads. It may also reflect expected improvement for Tennessee, which benched Marcus Mariota during its 16-0 loss to Denver last week.
Mariota has regressed as has Chargers quarterback Phillip Rivers. Ryan Tannehill starts for Tennessee, which has one TD in its last 10 quarters.