With the current shutdown of land-based casinos in Atlantic City and other physical gaming activities due to the coronavirus, players are turning to New Jersey online casinos and gambling for entertainment.
In particular, PokerStars NJ and PokerStars PA have seen a significant increase in online poker player traffic.
Poker players are looking to capture some of the social aspects of private poker games that stay-at-home orders have them missing. Players are currently able to set up their own online poker games with PokerStars NJ's Home Games to play with their friends.
Currently, no other online poker operator in New Jersey offers private online poker games with friends. That is likely to change soon.
888poker launches Play With Friends
Due to the recent interest in playing private online poker games with friends, 888poker recently released Play With Friends for players outside of the US.
888poker's tagline to promote their private online poker games: "Meet your friends online" means you no longer need to gather in the same physical location to play home games with your buddies.
In addition, 888poker filmed a video tutorial by 888poker Ambassador Chris Moorman on how to set up private cash games or tournaments with friends on their site.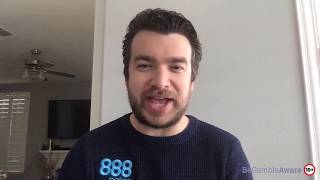 All of this begs the question, will 888poker also offer Play With Friends to US players?
We decided to reach out and received confirmation from customer support that 888poker is planning on offering Play With Friends to the US:
"Unfortunately at this time, 888 New Jersey does not offer private games and tournaments, we last offered the option over 2 years ago. The good news is we are looking to offer this option in the future, however, there is no scheduled timeframe for this re-introduction. Please keep an eye out for when this is re-added by checking our website."
Also, due to sharing a player pool with WSOP.com NJ, 888poker NJ also shares players with Nevada and Delaware. This means that players in the three states unite for a larger player pool, and it seems likely that Play With Friends will also be accessible to players within those states.
Claim Your $20 For Joining 888 NJ Now
$20 Free On Sign Up
100% up to $1,500 Deposit Bonus Offer
To Claim: Click Play Now
How 888poker's private poker games will likely work in NJ
While 888poker NJ does not offer Play With Friends, it is extremely likely that when this feature does launch in NJ, it will likely look and feel the same. Therefore, let's take a look at how to set up online private poker games at 888poker.
Please note: 888poker Play with Friends is only available on the poker client, which means you cannot access it through your desktop browser or mobile app.
After account creation, look at the top left of the client where you see the drop-down toolbar options. Then, click on "Extra Games," and the last option is Play With Friends.
Now, a pop-up window appears with a message: Welcome to "Play With Friends."
There are two options: "Join Game" or "Create New Game."
Once you choose to create a new game, you now decide whether to create a new tournament or cash game.
Create an online private tournament at 888poker
In order to create a new online private tournament with friends, make sure to select your options for:
Game name
Game password
Start date and time
Buy-In: Freeroll, $1, $2, $5, $10, $20, $40, $50, $75 or $100
Number of Seats: Two, six or 10
Prize Pool Structure: Regular, 100%, 70/30 or 50/30/20
Additionally, clicking on "More Options" allows you to add:
Second chance
Re-buy/add-on
Recurrence: Once, daily or weekly
Blinds Increase: Slow, normal or turbo
Action Time: Normal or fast
Create an online private cash game at 888poker
For cash games, select the "Create New Cash Game" tab. Then, make sure your selections are correct:
Game name
Game password
Starting date and time
Stakes: 1¢/2¢, 3¢/6¢, 5¢/10¢, 10¢/20¢, 25¢/50¢, $1/$2, $2/$4, $3/$6 or $5/$10
Number of Seats: Two, six or 10
Action Time: Fast or normal
Maximum Buy-In: 40, 100, 200 or 500 BB (big blinds)
Once you create your private tournament or cash game, enter your email address to send the invitation to yourself and then finally, forward it to your friends.
Image courtesy of 888poker.