NJ online casino revenue is not slowing down. At least not yet.
The New Jersey Division of Gaming Enforcement (DGE) released July's numbers Wednesday afternoon, and the final tally came in at $87.4 million.
Besides being a new all-time high, the number is a 122.5% year-over-year increase.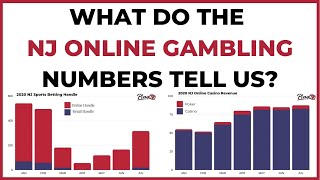 These are just a couple of standout items from the latest revenue report. Here is a look at five other NJ online gaming highlights.
1. Online still popular even with AC casinos reopened
New Jersey's online casino industry enjoyed back-to-back $80 million months (for the first time ever) while Atlantic City casinos were closed for 100-plus days.
One would assume once AC's land-based operations reopened in early July that those numbers would start leveling out. Right?
Well, maybe next month.
Customers did return to all nine properties as July's casino win came in at $147.4 million. That number is down 46.8% from the previous July. Keep in mind casino floors are limited to 25% capacity, and smoking, indoor dining, and drinking are prohibited.
However, spending the previous three-plus months focusing on the online business continues to pay huge dividends. In July, six of the seven online license holders saw revenue increases of at least 90%. (We will touch on this shortly.)
Call it building on the momentum from the previous four months of revenue:
March: $64.8 million
April: $79.9 million
May: $85.9 million
June: $84.9 million
It seems likely some of this business will eventually shift back to gaming floors. The when remains to be determined.
2. Golden Nugget still king by a large margin
No matter which month it is, Golden Nugget claims the top spot. They are the New England Patriots of the NJ online casino industry.
In July, the license holder reported $31.4 million in revenue, a 111.3% year-over-year increase.
By the way, the revenue is a new record for Golden Nugget, topping the previous high of $29.1 million set in June.
The four brands operating under the GN license are:
Combined, the four brands claim a 36% market share.
It's much-needed good news for Golden Nugget Atlantic City, as the casino win came in at $8.8 million. That is last among the eight casinos that reopened prior to the Fourth of July weekend.
Borgata, which was open for a total of nine days (soft-opening included), reported a casino win of $8.3 million.
So NJ internet gaming continues to help Golden Nugget remain competitive with the rest of the field.
3. Borgata giving Resorts Digital a run for its market share
Those who follow the NJ online gambling industry on a regular basis are well aware Resorts Digital has a firm grip on the No. 2 position. Having DraftKings Online Casino under its license helps.
July was another strong month with $18 million in total revenue, giving it a 21% market share.
At the same time, Borgata continues to close the gap between No. 2 and No. 3. It earned $15.2 million, which was good enough for a140.3% year-over-year increase. It holds a 17% market share.
For February, the last full month AC casinos were open, Borgata only had a 15% market share.
Remember, Borgata customers were not able to visit their favorite land-based casino for the majority of the month. So August could be a different story as the MGM-owned property will have 31 days of retail earnings.
At the same time, Borgata players have several online options available to them. They include:
Bottom line, Borgata and its online partners are worth keeping an eye on.
4. Hard Rock online gambling is on the rise
Hard Rock Atlantic City hit several high notes for the month. The biggest being the land-based casino win of $24.5 million, good enough for tops in the market.
On the NJ online casino side, Hard Rock AC earned $5.6 million in revenue. That may not sound like much compared to Golden Nugget or Resorts, but for Hard Rock, that's a $194.7% year-over-year increase.
Ocean Casino (217.3%) was the only license holder to see a bigger increase. Both properties opened in 2018, so gaining a larger market share versus more established operators can be challenging.
The Hard Rock brand is one of three NJ online casino apps that operate under the license. The others are Unibet Casino and Bet365 NJ casino, both of which are based out of Europe.
Since both of the apps launched last summer, they may finally be gaining traction with Garden State players.
5. Let's not forget NJ online poker
Getting back to the record-breaking theme, New Jersey poker apps played a significant role in July's results, too.
The seven poker sites combined for $4.8 million in revenue, a 36% jump over June.
The boost may be a one-time event, however. Atlantic City poker rooms remained closed for all of July. That closure likely contributes to the rise in online poker revenue as gamblers move their bets online.
Brands operating under the Caesars Interactive license led the way with $2.8 million in revenue. Play NJ understands that WSOP.com NJ accounts for the majority of the revenue as a result of hosting an online bracket series. The rest is 888 Poker, which shares a player network with WSOP.
PokerStars NJ, operating under the Resorts Digital license, earned $1.1 million for the month, which is slightly down from June's $1.2 million.