[toc]PokerStars wasn't the only real-money online gaming website that went live in New Jersey recently.
On March 22, 2016 Pala Interactive launched a real-money online bingo site in New Jersey, PalaBingoUSA.com. The NJ bingo site, like the PalaCasino.com New Jersey online casino, is run by the California tribe in conjunction with Borgata Hotel and Casino, whose online gaming license Pala uses in New Jersey.
The Pala Bingo site is currently offering 90 ball bingo games – more information on 90 ball bingo can be found below.
"We are excited to bring 90 Ball Online Bingo to New Jersey by launching PalaBingoUSA.com," Jim Ryan, CEO of Pala Interactive said in a press release. "We believe there is tremendous potential in 90 Ball Bingo in New Jersey and as such we decided to launch 90 Ball Bingo with a dedicated brand. We believe this focus on bingo make PalaBingoUSA.com New Jersey's home for online bingo players."
Pala's bingo software is being provided by Gaming Realms, a leading European online gaming operator and software supplier whose management team has expertise with leading successful online bingo brands such as Foxy Bingo and Slingo, according to the press release.
Patrick Southon, Gaming Realms' CEO, said of the new partnership and the company's entry into the U.S. market:
"This is a significant partnership for Gaming Realms as it marks our first U.S. real money venture. We are pleased to be part of PalaBingoUSA.com and hope the project will open up further opportunities to work with Pala Interactive."
How to play 90 ball bingo
90 ball bingo is a variant that I can best describe as a blend of traditional bingo with some elements of a keno game, especially in its online form where numbers are marked off automatically.
Much like 75-ball bingo, 90-ball bingo is played on a bingo card. But unlike a standard bingo card, in 90 ball bingo each card has just three lines of five numbers, for a total of 15 numbers.
In 90 ball bingo, players can win up to three times each game by accomplishing the following:
Cover one line of five numbers
Cover two lines of five numbers
Cover all three lines AKA a full house
There is also usually a jackpot for players who can cover their entire card before a certain amount of numbers have been called.
Here's a quick tutorial video of the game if my layman-esque explanation doesn't make sense: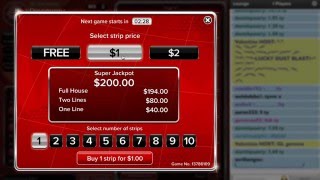 And here is a complete walkthrough I found on the Pala Bingo website.
Tropicana's 90-ball bingo games
Pala isn't the only real-money online bingo provider in New Jersey. Another site beat Pala to the punch over a year ago.
Last March, Tropicana (and its sister site VirginCasino.com) launched their own 90-ball bingo game in New Jersey. Tropicana was the first regulated online gaming bingo provider in the United States.
The difference between Tropicana's bingo games and Pala's is one of degrees. Even though it currently has an online casino in New Jersey, Pala is marketing its bingo site as a standalone product, whereas Tropicana's bingo games are just one part of the company's online casino games in New Jersey.
I haven't seen any raw data on the amount of revenue Tropicana's bingo games are producing, but I was surprised to learn how big the online bingo market in Europe. One report from Gambling Data estimated online bingo accounted for over £250 million of the UK's £1.7 billion of online gaming revenue in 2011.