The PGA Championship has been moved up to this week and the top NJ online sports betting operators are now offering some interesting bets on golf's next major.
The 2019 PGA Championship will play out at the Bethpage State Park Black Course in Farmingdale, NY. The first of four rounds begins Thursday. The PGA has held the tournament in mid-August until moving it up this year.
The 2019 PGA Championship favorites
FanDuel Sportsbook has 2018 PGA Championship winner Brooks Koepka (+950) as the favorite to win it and defend the title he won at Bellerive Country Club in Missouri last August.
Incidentally, Tiger Woods finished runner-up in that event.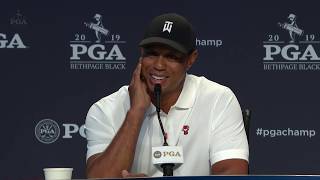 Woods is heading into what is now the golf year's second major championship coming off a historic win at The Masters in April.
BetStarsNJ has Woods just behind Koepka and Rory McIlroy and current top-ranked golfer Dustin Johnson as the favorites to win the PGA. All four were at +1000 or higher as of Wednesday morning.
DraftKings Sportsbook has Johnson and Northern Ireland's Rory McIlroy, a two-time PGA Championship winner, as the favorites sitting at +1000. Koepka and Woods are right behind the pair at +1100.
As you can see, there's some real value in bets on the favorites to win the 2019 PGA Championship. Plus, the numbers only go up from there.
Additionally, you can book bets on most golfers to finish in the Top 5, Top 10, or Top 20. Odds here start at about a quarter of the odds on each to win it.
2019 PGA Championship golf odds at NJ sportsbooks
| Golfer | DraftKings | BetStars | FanDuel |
| --- | --- | --- | --- |
| Dustin Johnson | +1000 | +1000 | +950 |
| Rory McIlroy | +1000 | +1100 | +1100 |
| Brooks Koepka | +1100 | +1100 | +950 |
| Tiger Woods | +1100 | +1200 | +1200 |
| John Rahm | +1600 | +1800 | +1800 |
| Jason Day | +1800 | +2200 | +2200 |
| Ricki Fowler | +1800 | +2200 | +2000 |
| Justin Rose | +1800 | +2200 | +2000 |
| Francesco Molinari | +2500 | +3000 | +2800 |
| Xander Schauffele | +2500 | +2500 | +2900 |
Interesting lines and promos
DraftKings, FanDuel, and BetStars are also offering some rather interesting lines and promotions surrounding the 2019 PGA Championship.
The last major championship at Bethpage Black was the 2009 US Open won by Lucas Glover. Before that, the only other major held there was the 2002 US Open won by Woods.
Woods is no stranger to success in the PGA Championship either. He's won it four times, including back-to-back titles in 2006 and 2007.
Considering that, and his recent success at The Masters, BetStars NJ is offering Tiger Insurance for the 2019 PGA Championship. That means losing bets up to $20 on any other golfer to win will be refunded if Woods wins.
Before placing any bets, be sure you know all of the different types of golf betting options.
A dedicated Tiger Woods betting market
For its part, FanDuel Sportsbook has an entire Tiger Woods betting market available.
The Masters win brought Woods' total wins in majors up to 15. You can now book bets on FanDuel for Woods to win two majors this year (+150), three or more (+1000), and all four (+10000).
Plus, you can bet on Woods matching Jack Nicklaus' record of 18 majors (+500), or surpassing it (+1000).
Additionally, DraftKings, FanDuel, and BetStars NJ betting apps all offer bets on which golfer in a specific group will post the best first-round score.
Sportsbooks often call these bets Sixshooters, referring to groups of six golfers, or 3 Balls, referring to groups of three.
2019 PGA Championship props
Plus, there are a wide variety of 2019 PGA Championship props available at each of the sites.
DraftKings Sportsbooks offers odds on which golfer will have the best single round. At +1200, McIlroy is the favorite here with Johnson, Koepka, and Woods right behind at +1400.
In the meantime, FanDuel Sportsbook is offering +10000 on any specific golfer in the field to make a hole in one. Plus, -102 on whether or not any player in the field will put a 1 on the scorecard throughout the entire tournament.
BetStarsNJ also has a First Round Leader market where you can bet on who will emerge as the overnight leader on Thursday. At +1800, Johnson and McIlroy are the co-favorites here with Woods and Koepka at +2000.
Once again, the favorites offer some great value and the odds on every golfer to grab the round one lead look long.
The 2019 PGA Championship should be a fun ride from Thursday's tee off through Sunday's final round. Book any of the bets above or browse around the 2019 PGA Championship betting markets at DraftKings, FanDuel, and BetStars.
You're practically guaranteed to find something that'll make the PGA even more worth watching.