November will likely see another player enter the NJ sports betting market after Australian operator PointsBet begins operations.
The Australian company announced its intentions after agreeing to a deal with Meadowlands Racetrack and Tioga Downs in New York back in July.
To introduce itself to the NJ online gambling market, PointsBet has signed up NBA star Allen Iverson to front the company's advertising campaign.
PointsBet US CEO Johnny Aitken commented:
"We're over-the-moon to work with an athlete of Allen's calibre – when people think of AI, they think of a renegade and cultural phenomenon that was known for his flash and style on and off the court. For those reasons, we saw the partnership with Al as a perfect fit to represent the PointsBet brand."
PointsBet and a $1 million NBA free play sweepstakes
PointsBet will launch in New Jersey in November under the Meadowland license, according to reports. To make its mark it plans an inaugural free-to-enter $1 million sweepstakes competition.
The competition will be open to both New Jersey and Pennsylvania residents
Sports bettors who sign up at the PointsBet.com website will get a free entry into the sweepstake. To win, players must pick the eight finalists of the 2018/19 NBA East and West Conferences.
The sweepstake will be accompanied by an ad campaign featuring Iverson. The campaign called "The Answer" will promote PointsBet and Iverson as being the answer to "more than just basketball."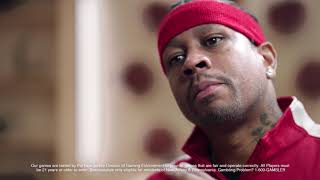 The New Jersey market is now extremely competitive, and PointsBet knows the challenges it faces to win market share.
It sees Iverson as being the "perfect ambassador." PointsBet associates itself with Iverson's "fearless approach on the court and his ability to challenge the opposition."
PointsBet, Points Betting and NJ sports betting
Like all the NJ sports betting operators so far, PointsBet will be available 24/7 on desktop and mobile devices. What will make the company stand out is its signature product, Points Betting.
This is a high-risk game, but it offers the chance to make big returns — or big losses. The game is based on predicting how close the final number is to the spread.
A bettor can wager money on the over, for example. Assume a $1 bet and the total ends up 10 points over. In this case, the bettor wins $10, but if the final number ends up 10 points under, the bettor loses $10.
In its home Australian market, PointsBet offers bets on thousands of sporting events around the world. It will be bringing those sports to New Jersey as well as the standard US favorites: NFL, NHL, MLB, and NBA.
Eight New Jersey online sportsbooks
In a market of fewer than 10 million people, PointsBet will compete with eight other NJ online sports betting sites. As of today, they are: