PokerStars brings virtual reality to the online poker room. The global poker brand worked with Lucky VR to bring a new look to free-to-play social gaming.
Combining online and live play characteristics, PokerStars VR takes the customer experience to a whole new level.
Severin Rasset, director of Poker Innovation and Operations at PokerStars, spoke about the new technology in a press release on Thursday.
"PokerStars VR is a chance for us to take this amazing technology and bring something totally unique to poker players. Poker is about interaction. It's been bringing people together for well over a century. We're really excited to invest in the next generation of the game and to give players the opportunity to meet in a brand new virtual reality dimension."
What players can expect when playing PokerStars VR
The press release explains PokerStars VR as a way for "players to come together from all over the world in a virtual card room where avatars not only interact around the game but can dress to impress, socialize, entertain and chat as if in the same room."
PokerStars VR is intuitive, brings the play to life, and even responds to voice commands. In other words, be careful about muttering "all-in" under your breath.
Players can expect to experience fully-immersive action at the tables. Watch for tells, shuffle chips, or go in the tank for an excessive amount of time. All real-life aspects of the game are available in the virtual reality card room. Behave and be cordial or don't — it really is up to you.
In fact, there is this gem on its blog:
"You can throw food at people, smoke a cigar, or even own a pet donkey if that's your thing. Or you could be more civilized and share food, order drinks, even stream shows or sport."
Think of PokerStars VR as a typical home game with conversation, props, and tons of fun.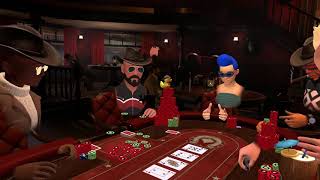 Players can choose from five locations:
Macau 2050
The Macau Suite
The Showdown Saloon
Monte-Carlo Yacht
The Void
PokerStars VR includes player leaderboards, private tables, and chances to earn free chips daily by spinning the virtual wheel.
Another benefit of the new virtual reality product is it is integrated with Twitch and social media on Oculus Rift. PokerStars put a lot of thought into how to merge the fun and social aspects of poker into this novel product.
Claim Your $20 For Joining 888 NJ Now
$20 Free On Sign Up
100% up to $1,500 Deposit Bonus Offer
To Claim: Click Play Now
PokerStars has been on an innovation spree
Virtual reality is becoming less futuristic and more mainstream lately. PokerStars, of course, is capitalizing on the latest technology.
It was only a matter of time really. The company doesn't shy away from trying new things to entice players to the tables.
Some of the innovations work. Think of Zoom, the fast-paced cash, and tournament games.
And some things don't. Surely the company wishes it could unfold "Unfold." Unfold allowed a player to unfold a hand after the flop fell. It was forced to pull the new game iteration after just a month on the board.
PokerStars VR takes innovation to a whole new level though. Even for PokerStars.
Rasset talked further:
"It's something we wanted to explore and it's something we believe is going to be a mainstream medium in the future. It's a great portal for us to engage with customers and it's a brilliant medium to play around with."
PokerStars VR is currently in closed beta on Oculus Rift, HTC Vive, and Steam. It will likely be quite some time before its ready for prime time to the general public or at PokerStars NJ.
But is it the wave of the future? Look into your crystal ball and see what it says.