If you are wondering when the new Spiegelworld production coming to Caesars Atlantic City will be debuting, the answer is June 30, 2023. And we finally know it's going to be called "The Hook."
We are not talking about the typical Atlantic City casino show here. This is going to be the city's only permanent live entertainment destination. Call it the latest piece to Caesars Entertainment's $400 million investment in Atlantic City, $200 million of which is earmarked for the flagship property.
We are thrilled to announce that @Spiegelworld is bringing The Hook, the city's only permanent live entertainment destination, to @CaesarsAC in June 2023.

Tickets are now on sale: https://t.co/Yl9MIMm4JJ pic.twitter.com/eBYPS7e91k

— Caesars AC (@CaesarsAC) December 6, 2022
The Atlantic City Boardwalk's old Warner Theatre, which dates back to 1929, will serve as the backdrop for this first of its kind Jersey Shore production. Here is a closer look at what guests can look forward during the summer of 2023.
More about 'The Hook' plans for Caesars Atlantic City
Before getting into the specifics, it's important noting Spiegelworld is no stranger when it comes to live entertainment. Those who frequent the Las Vegas Strip might have seen the megahit "Absinthe," currently at Caesars Palace. There also is "OPM" at The Cosmopolitan and "Atomic Saloon Show" at The Venetian.
So expect 'The Hook' is going to bring a unique vibe to Caesars AC's Wild Wild West Casino space. Come the summer of 2023, guests will arrive via "the Warner Theatre's beautiful original façade, and into a world of entertainment featuring a raucous live stage show." This fresh entertainment offering will include Spiegelworld's signature interactive dining-entertainment experience.
And here's the bigger deal: It will be operating every week of the year as a fun palace for adults. "The Hook" venue will feature a world-premiere live show with an international cast in a purpose-built 400-seat theatre.
But there's more.
Atlantic City is going to be the second home for Spiegelworld's critically acclaimed Italian American Psychedelic Superfrico restaurant. Plus, there will be a myriad of discoverable bars with an elevated cocktail program curated by award-winning mixologists.
Here's what Ross Mollison, Spiegelworld's impresario extraordinaire, has to say about the AC plans:
"Now we're incredibly excited that our pals at Caesars have given us this opportunity to bring our party to the playground of potential that is Atlantic City. Millions have moved to the Jersey shoreline, and there is nothing to do other than drive to New York with the flock of tourists."
Well, Mollison adds "Forget it. Come to AC."
"… Experience a show that can be seen nowhere else in the world. Have an incredible cocktail. Have an incredible meal. Get caught on The Hook."
For now, here's a little teaser.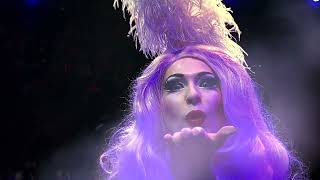 Spiegelworld bringing new energy to Caesars Atlantic City
Specific details regarding what 'The Hook' is all about will be announced sometime next year. Being that the Caesars Entertainment team is extremely familiar with with "Absinthe" in Las Vegas, the executive team is ready to have Atlantic City guess experience the same energy.
"We are excited to see what his daring and innovative team has in store for Caesars Atlantic City with The Hook and Superfrico," Caesars Entertainment President Anthony Carano said.
The Caesars AC $200-million transformation update
So when next summer rolls around, the same old Caesars Atlantic City will be the new Caesars AC.
Some of the work is already finished. The first Gordon Ramsay Hell's Kitchen restaurant on the East Coast is open. so is the region's first Nobu restaurant. Other completed projects include:
Over 700 newly appointed rooms and suites
New rooftop pool experience overlooking the Atlantic Ocean
Plus, a new Starbucks outlet and Nobu Hotel are coming soon.
However, "The Hook" could be the game-changer that attracts year-round crowds.
More details are available via the spiegelworld.com website.