Editor's Note: This is the second of a multipart series on Atlantic City gambling and its future. You can find part one here.
Remember the days of talking about what a great addition legal sports betting would be to the Atlantic City casino market?
For years, it seemed like a pipe dream.
Several court appearances and lawsuits later, NJ sports betting is a pretty big deal. How big?
Well in 2019 alone, Garden State sportsbooks took in $4.5 billion, yes billion, in wagers. And this is just one of the many eye-catching numbers.
New Jersey recently quietly celebrated the two-year anniversary of legal sports betting in the state. The global pandemic has tempered the market growth. But even while casinos were closed, bets were happening on the sportsbook apps.
This is a documentary that Play NJ created about the rise of sports betting in New Jersey.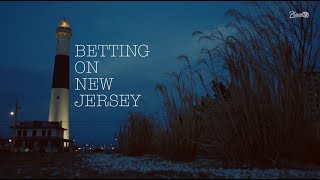 Online betting may be the breadwinner, but the new industry provides Atlantic City casino operators with something else to offer customers 365 days a year.
So current global pandemic aside, here is the billion-dollar question: Does Atlantic City have what it takes to become an East Coast sports betting destination?
NJ sports betting history lesson
The legalization process for NJ sports betting is a very long story. So instead of rehashing the history and steps, we will highlight two key dates.
The first is May 14, 2018. This is the date the US Supreme Court dismissed the Professional and Amateur Sports Protection Act (PASPA) as unconstitutional.
And one month later, on June 14, the first legal sports wager in Garden State history was placed at Monmouth Park. Gov. Phil Murphy did the honors. Later that day, the first wager in Atlantic City history was placed at the Borgata.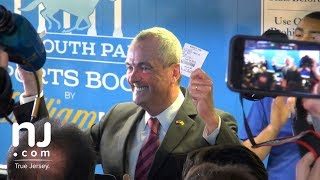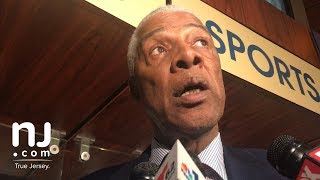 Bottom line, 40-plus years into its gambling history, Atlantic City (and the rest of the state) now have a new avenue for legal betting. And two years after that first bet was placed, New Jersey boasts a robust sports betting market to complement its record-breaking online casino market.
Operators want a piece of the NJ sports betting pie
The New Jersey sports betting market provided an entry point for both American operators and European companies.
And why not? The market not only boasts billions in dollars of wagers annually. But even when sports shut down during the pandemic, online operators were still pulling in bets. May 2020 saw a jump in total bets from $118 million the month before to $165 million.
To make things even more enticing, New Jersey regulators gave operators plenty of avenues to pursue sports betting.
Each of the 10 license holders is permitted to have a retail sportsbook along with up to three online skins. That means the market can have up to 12 retail books and 36 apps.
AC casinos and NJ racetracks were quick to open sportsbooks in 2018. That tally sits at 10 total, eight of which are in Atlantic City. As far as mobile goes, the initial launch included some big names:
William Hill NJ
BetStars NJ (now Fox Bet)
Call it a small sampling. The market currently includes 18 NJ sports betting apps, with more preparing to launch.
Here is a look at the breakdown by license holder:
*Tipico is awaiting licensing approval from the New Jersey Division of Gaming Enforcement. | **William Hill shares licensing between its three casino and racetrack partners.
Looking at the chart, the door is still wide open for additional operators to come aboard.
Bally's is the perfect example.
Twin River Worldwide Holdings is purchasing the property from Caesars. And once the licensing process is complete, the new owner plans on pursuing NJ sports betting opportunities.
"As soon as we're licensed and close on this transaction, we think that we can bring an exciting sports betting brand to AC," George Papanier, CEO of Twin River, told Play NJ.
Making sportsbooks an Atlantic City destination
AC casinos have invested millions building state-of-the-art sportsbooks. The hope, of course, is they become viewing destinations for major sporting events such as the Super Bowl and March Madness.
William Hill is one of the companies that has gone all in, setting up retail operations not only at Monmouth, but also at Ocean Casino Resort and the Tropicana. The latter was unveiled in March 2019, just in time for the NCAA basketball tournament.
Joe Asher, CEO at William Hill US, said he is a big believer that you "have to make a sportsbook a great social environment." Case in point is the one at Ocean, which sits as the center of the casino floor and includes skyboxes.
"[It's about] having great places where people can come and hang out, be with their friends and really enjoy a social experience that you can't replicate sitting on your couch at home. It's really designed to be a destination."
Caesars and MGM took a similar approach with opening permanent retail sportsbooks last year.
Borgata unveiled Moneyline Bar & Book last summer, which doubles as a restaurant. The space was recently given a BetMGM branding.
And Caesars opened The Book at Bally's, which at more than 15,000 square feet, is Atlantic City's largest. Caesars will maintain ownership once the Bally's sale is completed.
DraftKings Sportsbook sets the table
But while retail operations provide entertainment value, sportsbook apps attract the bulk of the action.
Just look at the Division of Gaming Enforcement's monthly revenue numbers. In 2019 for instance, out of the $4.5 billion in handle, more than $3.8 billion came via mobile.
DraftKings certainly saw the potential as they were first to market with the DK Sportsbook app. New Jersey also served as a launching point for the Boston-based company that has since expanded into Pennsylvania, Colorado, Indiana, and other US markets.
So what made the Garden State such an attractive starting point?
DraftKings Sportsbook director Johnny Avello said New Jersey regulators did a couple of things that really made a difference.
"They allowed us to offer a multitude of content, things that were never offered before in Las Vegas, which was really the only sportsbook offering in the entire country," said Avello.
"And the mobile with the remote signups, that is just huge. To me, that is the way everyone should be doing it, and that is the way Jersey did it out of the box. So I think those are the two things that made the push significant."
Sportsbook operators react to pandemic times
Of course, the COVID-19 pandemic is something none of the operators saw coming. Days before March Madness betting was slated to tip-off, the entire sports world came to a screeching halt.
Just like that, the MLB, the NBA, and NHL all halted their respective seasons. As a result, there were extremely limited customer offerings during April and May.
Unless you're one of those new fans of Russian table tennis, there was not much to bet on for three months. So sportsbooks had to keep bettors engaged.
DraftKings is one of the operators that took a creative approach during the shutdown.
"We just tried to get creative and keep our customers engaged. We had [and still have] the free to play pools which anybody around the country can play," said Avello.
Slowly but surely sports are coming back. The PGA Tour, UFC, and NASCAR got things started. MLB returned in July, and now the NBA and NHL have restarted, too.
That's a lot of sports happening all at the same time.
August is looking hot for NJ sports betting
Avello also tossed out an intriguing question: "What do you usually have in July and August? You have baseball," and that's it. But not this year.
In other words, DraftKings foresees an extremely active month in August.
"This is different than any offerings I've been able to give to our customer base before. … Just look for DraftKings to be at the top of its game."
The DraftKings Sportsbook at Resorts is open, too. However, like the casino floors, sportsbooks are limited to 25% capacity. And food and beverage is not being offered.
But watching and wagering is what it's all about.
Avello isn't the only person forecasting a huge August.
Tom Gable, director of race and sportsbook operations at Borgata, sees a spike on the horizon.
"Now with the major sports coming back, [it's] probably going to be a record August, I would assume, for most books out there. It's going to be great," said Gable.
And when the Borgata held its July 23 soft reopening, so did the sportsbook. It just happened to be opening day for the New York Yankees and defending World Series champion Washington Nationals.
Bettors couldn't wait to get in on the action.
"We did probably in two days, the last few days, in handle what we would typically do in two weeks handle on baseball. So there's definitely a pent-up demand to bet right now."
But how much of a demand is there? The number to beat is $293.6 million. That is the NJ sports betting handle from last August.
Atlantic City sports betting: a regional destination
Eventually, things will get back to normal when sportsbooks and casinos will be operating at full capacity again.
Whether or not it comes before the next Super Bowl, nobody knows.
But this brings us back to the bigger question: Does Atlantic City have what it takes to be an East Coast sports betting destination?
Asher says yes it does.
"I think clearly it's a regional destination. Sportsbooks are built to be really nice places," said Asher.
"If you just want to drive an hour or two versus getting on an airplane and flying across the country, it's certainly a convenient place to have a great time for the weekend."
Avello believes in Atlantic City, too. And here's why:
"Las Vegas only has about 2 million, two-and-a-half million people but draws mostly on people who are frequenting it five times a year. Why not Jersey that has a population of 10 million and [is in] close proximity to some bigger cities like New York and bigger cities in Pennsylvania?"
Bottom line? Thanks to legal sports betting, Atlantic City is back on the map.