The Philadelphia Phillies home opener is Friday against the Oakland A's. Yes, opening the 2022 Major League Baseball season against an American League West squad is a rare occasion.
More importantly, having s six-game homestand at Citizens Bank Park (the New York Mets will be in town April 11-13), means Philadelphia Phillies fans have a whole lot to be excited about regarding the new season. Monday, the team held a media preview to talk about the new amenities and merchandise.
PlayNJ was there. Let's just say it sets the table for 10 reasons to be excited about the 2022 Philadelphia Phillies season.
New Players get up to $150 in Bonus Bets at FanDuel Sportsbook
Up to $150 in Bonus Bets if Your Team Wins
Available on Desktop, Android & iOS

To Claim: Click Play Now

10. A taste of the Jersey Shore
What if we told you ordering from Manco & Manco Pizza no longer requires visiting Ocean City. Yes, we are talking about the famous Jersey Shore thin-crust institution that has been serving Jersey Shore customers since 1956. Some refer to them as the "first and last name in pizza!"
Now fans can enjoy one of their pizzas while attending home games at Citizens Bank Park. Manco & Manco will open the brand new location Friday.
The Ashburn Alley location will be serving plain, pepperoni or series special pies fresh out of the oven.
9. Ryan Howard talking chicken sandwiches
Wondering what former Phillies slugger Ryan Howard is up to these days?
Well, one of his ventures is working closely with Craig and Michael Colby – the founders of Colbie's Southern Kissed Chicken. Their food and beverage offerings will be available behind section 120. Think Southern-style chicken sandwiches, including The Big Piece, which is Howard's nickname. It consists of a sweet Hawaiian bun, garlic aioli, pickles, mild American cheese, bacon, lettuce and tomato.
Try and save room for some peach spoon pie.
8. In case you're still hungry, here are three new offerings
So with MLB games being nine innings, multiple food and beverage breaks take place during games. Three hours is a long time to go without eating. And if there is a rain delay or extra innings, forget about it.
Like previous seasons, the menu includes expanded food options. There is even a peanut butter and jelly burger. This is not a typo. We're talking a special blend boardwalk burger topped with peanut butter, jalapeño jelly, American cheese and bacon on a brioche bun. If you #DaretoPair, they're available at Boardwalk Eats, section 142.
For something not as daring, but still rather interesting, Bull's BBQ in the left field plaza is now serving burnt ends cheesesteaks (house-smoked brisket ends, on a roll topped with smoked gouda cheese sauce and caramelized onions).
Another newbie is Pass & Stow sausage sandwich available at the third base plaza. This one consists of house-made sausage, pepper-shooter mayo and arugula.
7. Place those bets at the FanDuel Sportsbook
Some days getting to the ballpark may include a pre-game detour. Live! Casino & Hotel Philadelphia is footsteps from the Citizens Bank Park gates. Come opening day, looking at the latest Phillies odds might be tempting, especially the run line. On paper, Philadelphia's lineup is absolutely stacked (more on this further down).
There are a couple of different ways to get some skin in the game. The first would be placing bets via your favorite Pennsylvania online sportsbook (those who prefer NJ sports betting apps, place those bets before crossing the Walt Whitman Bridge).
Another option is stopping by the betting windows at the Live! Casino FanDuel Sportsbook retail location. By the way, since opening day is sold out, catching the A's vs. Phillies game there is a solid plan B. Sports & Social Philly (also located inside of Live!) features a 52-foot LED display and 24 big-screen TVs.
6. Thanks to the DH, the bell will be ringing more
Speaking of the Liberty Bell (the CBP version, not the real one at Independence Mall), it has received some nice upgrades for the 2022 season. We're talking thousands of new LED lights and "motion-added fun." As far as specifics, you'll have to wait until the Phillies knock one out of the park.
With National League teams now using the DH, the pitcher's spot in the batting order will be replaced by a big bat. And the Phillies front office invested some serious cash in those big bats.
The lineup is looking absolutely stacked this season with the additions of Nick Castellanos and Kyle Schwarber, who both signed as free agents. The duo combined for 66 home runs during the 2021 season. Add in reigning National League MVP Bryce Harper (35 home runs), and there is no question the bell will be ringing often.
5. Increased odds of making the playoffs
Another big change of the new MLB collective bargaining agreement is the expanded playoff field of 12 teams (six from each league). Philadelphia hasn't made the postseason since the 2011 season when they were eliminated in the divisional round by the St. Louis Cardinals.
Could this finally be their year?
Since they have yet to play a regular season game, the FanDuel Sportsbook odds of the answer being YES are looking good (-145). The defending World Series champion Atlanta Braves (-390) and New York Mets (-230) have shorter odds.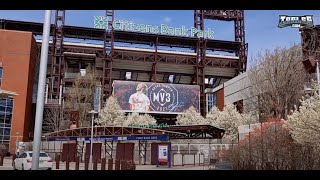 4. Let's toast the Philadelphia Phillies 2022 season
For those thinking this is about opening a bottle of champagne, guess again. Kyler Rum is another new Citizens Bank Park vendor with locations throughout the ballpark. This "clean, American rum" is distilled out of Pennsylvania.
Basically, if the Phillies do make the playoffs, instead of popping open a bottle of your favorite champagne, maybe a rum runner or mojito will be the celebratory drink.
However, there is no need to wait as Kyler Rum will be serving up drinks all season.
3. Hard not to think about NL East odds
What about the Phillies chances of winning the National League East? The Braves, for obvious reasons, are the favorite (+125). The Mets are next (+200) followed by the Phillies (+340). So of the three teams, Philadelphia presents the best value for bettors.
At the moment, it's looking like a three-team race as the Florida Marlins (+1300) and Washington Nationals (+4000) have long odds.
2. Philadelphia Phillies going all out for opening day
Looking at Friday's weather forecast, the two-plus days of April showers will be gone (at least this is what the forecast is showing). It means the standing-room-only crowd of 40,000-plus fans can leave the umbrellas at home.
Like previous home openers, the South Philadelphia Sports Complex will be buzzing. Here are just some of the highlights:
All fans will receive a Phillies fleece headband.
Fans will witness the return of an old tradition – Phillies players will make their way onto the field from Ashburn Alley.
Kane Kallas, son of the late great Harry Kallas, will sing the national anthem.
Another Budweiser block party at the third base gate.
First pitch will be thrown out by Dan Baker, who is celebrating 50 seasons as the Phillies' public address announcer.

1. Welcome back Mr. MVP
Yes, Mr. MVP Bruce Harper is once again the centerpiece of the Phillies roster. There is even an MV3 banner hanging outside of the ballpark.
He is the first Phillie to win the National League MVP award since the 2007 season when former shortstop Jimmy Rollins took home the honor.
Can Harper do it again? He is currently third on the FanDuel board (+950). Juan Soto of the Nationals (+380) and Ronald Acuna Jr. of the Braves (+900) are other top contenders.
By the way, fans 15 and over lucky enough to score tickets for Saturday's game will receive a Bryce Harper MV3 T-shirt.