Trump Plaza's days are numbered.
And by numbered I mean the property will be demolished. NJ.com reported that the main hotel tower is scheduled to be imploded on Jan. 29, 2021.
In fact, some of the preliminary work is underway.
For those saying "yeah right," here is some proof:
UPDATE: The former Trump Plaza Casino Hotel in Atlantic City is finally started being demolished this morning,slowly&carefully along the boardwalk. Work now happening before the dilapidated building crumbles on its own any further. Opened in 1984&closed 2014 @FOX29philly pic.twitter.com/kPvwCFsrak

— Steve Keeley (@KeeleyFox29) August 10, 2020
For those who live in AC or visit the gambling town regularly, this is a very big deal.
Since closing on Sept. 16, 2014, the exterior of the old Atlantic City casino has literally been falling apart. I know I have hurried past the building while walking on the Boardwalk. You never know when a piece might come crashing down from the exterior.
Who knows how bad things are inside. Which lead me to wonder, what items did hotel guests and staff leave behind from that final day of operations?
Play NJ has no plans to investigate. I doubt I'd be allowed inside the building, for one. Exploring the interior will have to be left to the demo crew.
Instead, I compiled a list of 10 extremely dusty items I think might be found in Trump Plaza. Maybe. (Wink, wink.)
10. Hotel room lamps
Did somebody forget to turn off the lights inside of random hotel rooms at Trump Plaza?
There have been a few occasions where it seems the hotel room lamps are still being used. At least at night. There must be a caretaker making sure the interior of the building remains intact.
9. Old Trump Plaza casino chips
One would assume there is a pretty good chance there is a random gaming chip or two that were left behind. Trump Plaza had its fair share of blackjack and table games among the rows of slots.
The denomination doesn't really matter at this point since the casino cage has been closed for years. But if somebody happens to find one, there may be a collector interested in buying it. I have no idea why.
8. Starbucks coffee cup
Like several other AC casinos, the Plaza property included a Starbucks right off the Boardwalk. It was heavily trafficked once upon a time.
There is little doubt customers were enjoying a Cup of Joe during that farewell visit. How many cups were actually thrown out, and how many are still sitting on the ground by the Boardwalk entrance?
7. Trump Plaza hotel room key
How many times have you checked out of a hotel room and just left the keys by the television? I'm not gonna lie. I've done it a few times.
Seriously, it's one of those things you don't think about when checking out for the last time. Our bet is more Trump Plaza guests walked out with hotel room pillows and bathrobes than those room access cards.
6. Toilet paper
If New Jersey residents could go back in time, many of them would've lined up outside of the hotel, filling trash bags with leftover rolls of toilet paper. Who knew a global pandemic would've led to a temporary shortage.
Maybe one of the floors of both hotel towers has a fully stocked storage closet. No guarantees on how that toilet paper has weathered the six years of being locked up in a musty building.
5. Trump Plaza casino carpet
Since I am not allowed in the building, it's hard to say if the casino carpet is still there. If you don't remember what the carpeting looked like, here's a photo from 2014:
But when was the last time the carpet was vacuumed? Maybe it's already been removed and rolled up near the skywalk so somebody can pull into the parking garage and load it on to the back of a pickup truck.
Hey, there has to be one person out there crazy enough to remodel their basement to look like the old Trump Plaza casino floor. Good luck getting a casino license from the Division of Gaming Enforcement, though.
4. Loose change
If Trump Plaza were to reopen for a day so former customers could enjoy a scavenger hunt looking for left-behind items, I am guessing loose change would be very easy to find.
But would they find more in the hotel rooms or on the old casino floor?
3. Outline of Trump Plaza name
Remember when Donald Trump made a big stink about the Trump name on the building's exterior?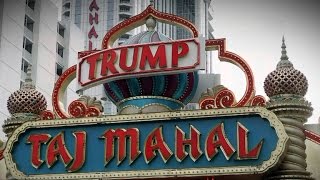 Well, it eventually was removed, just not completely.
The next time you're walking by the building, stop for a second and take a closer look. Yep, it still says Trump Plaza — minus the big letters and flashy lights.
2. Blueprint of Trump Plaza capital improvements
Somewhere on the property has got to be the blueprints for Trump Plaza's planned updates.
Rumor has it that an indoor water park was one of the ideas. That idea seems to be a near-constant one in Atlantic City.
One of the crazier ideas was to completely remodel the casino floor with a Central Park theme, complete with fake trees, bird sounds, and get this, a bronze statue of Trump (maybe that's a little over the top).
At the top of the blueprints might be the phrase, "Ways to make Trump Plaza great again." At the bottom, a question written in red ink: "How in the world are we going to pay for this?"
1. Ticket from the Tyson-Spinks fight
Who remembers the heavyweight championship fight between Mike Tyson and Michael Spinks?
Trump Plaza hosted the event on June 27, 1988, and it attracted a veritable "who's who" of famous athletes and actors. Michael Jordan, Magic Johnson, and Jack Nicholson were in attendance.
The fight lasted a total of 91 seconds. I'm guessing there were a few fans who were so angry about how much they paid that they just tossed the ticket in the elevator or hotel room. What are the chances it's found during a final sweep of the building?