If you enjoy watching celebrity poker events, PokerStars has an upcoming poker home game series tailormade just for you. Hank's Home Games, named for famous voice talent Hank Azaria from The Simpsons, will compete against several other celebs for a share of $50,000 for charity.
The series' first installment airs this upcoming Sunday on PokerStars' YouTube channel. The roster of competitors is sure to not only make the tournament competitive but also add to the entertainment value.
Claim Your $100 at PokerStars Now
1
Play 1 Hand, Get $100 in Bonus Play
NJ & MI Shared Player Pools
Over $1 Million Won Every Day
To Claim: Click Play Now

Details on the upcoming poker home game series
For those unfamiliar with the concept, the home game series name means exactly what it looks like. The competitors will be playing from their homes on PokerStars' online platform. The broadcast will be replete with split screens that feature several players, who include:
Hank Azaria
Jack Black
Michael Cera
Josh Charles
Don Cheadle
Jon Hamm
Michael Ian Black
Amy Schumer
The entire pot is $50,000, which the celebrity players will try to win the biggest chunk of for the charities they have chosen to represent. The first broadcast of the gameplay will be at 1 p.m. ET on Jan. 31.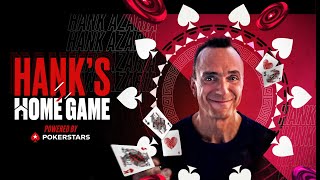 So far, PokerStars has not yet released a full schedule. It's also uncertain how many "episodes" will be released. What is certain, however, is that Azaria is happy to have his face and name associated with the event.
"Hank's Home Game is all about great company and good conversation," Azaria said in a press release. "Whilst we hope our Home Game will keep everyone entertained during testing times, it has also been a chance to continue raising money for charity. I am delighted that I have been able to work with PokerStars on this fun series, and I hope people enjoy it as much as we enjoyed playing each game."
PokerStars returns the sentiment:
"Providing entertainment for our community is at the heart of everything we do at PokerStars, and Hank's Home Game is a great reflection of this," said Rebecca McAdam Willetts, Associate Director, Group Public Relations at PokerStars. "Our Home Games are a great way for people to connect and compete from home, and they can do so for free. Hank and many of his talented guests' natural passion for poker has made bringing them together for good causes a real pleasure. We hope it also provides much-needed entertainment for viewers at home."
For PokerStars, it's a continuation of the company's charity initiatives.
PokerStars spreading the love
While this certainly acts as a marketing tool for PokerStars and the celebrities involved, the philanthropy element is legitimate. It's in the same vein as PokerStars' Stars CALL for Action event that happened last May, in which over 90 celebrities helped raise over $1 million to several charities.
In that event, David Costabile won the $100,000 grand prize for the charity he chose, World Central Kitchen. Will Azaria prevail in a similar fashion in the event that bears his name? You'll have to watch to find out.