Should the Brooklyn Nets file a missing player grievance against Ben Simmons?
He is a 6-foot-11 small forward/point guard out of Australia. Maybe you saw him play for the Philadelphia 76ers during the 2020-21 NBA Playoffs?
You know, right before the Ben Simmons wants out of Philly drama became one of the big distracting side stories of the current NBA season.
But it was all supposed to change Monday night. With his new team, the Brooklyn Nets, down three games to the Boston Celtics, Simmons had the golden opportunity to finally suit up and help salvage the season.
Talk about a great backstory for a primetime NBA Playoff game.
Unfortunately, but not surprisingly, his dramatic return was more like a summer blockbuster movie not living up to the hype.
Sort of like the Nets' odds to win it all.
Since he is under contract for four more seasons, we will look ahead to how the next season of Simmons and the Nets could unfold.
Claim Your $1,250 Bonus at DraftKings Sportsbook

1
Up to $1,250 BONUS
New User Bonus. T&Cs Apply.
DraftKings Promo: Bet $5 Get $200
PLUS $50 Bonus Bet On Deposit

PLUS Up to $1,000 Deposit Bonus

Gambling Problem? Call 1-800-GAMBLER 

To Claim: Click Play Now
Last time on 'Where is Ben Simmons?'
For those unfamiliar with the saga of Ben Simmons, the story takes us back to the 2021 NBA Playoffs.
He was still playing for the Philadelphia 76ers with MVP candidate Joel Embiid as the star. Some might recall Philly being the Eastern Conference's No. 1 seed, but got eliminated by the Atlanta Hawks in the second round.
Many blamed Simmons after he shot 15-of-45 (33.3%) from the free-throw line. If this was a final exam, summer school would be a guarantee.
You bet Philly fans wanted him shipped away on the next flight. Simmons never suited up again, and demanded a trade. No need to waste time with all the back-and-forth banter between the two sides.
Fast-forward to this season, the 76ers finally made a trade with the Nets, with Philadelphia getting All-Star James Harden in a package deal. When Brooklyn played at the Wells Fargo Center in March, Harden played as Simmons watched from the bench.
PlayNJ heard about a leaked Ben Simmons tribute video.
Have you seen it?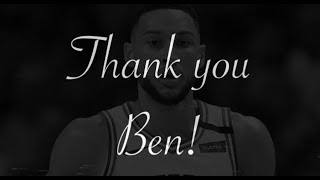 Not like the 76ers, the Nets and their fans are wondering when Ben Simmons will finally show up.
Is 'back soreness' the real issue?
Anybody who was on Twitter prior to Game 4, likely saw a Tweet or two related to Simmons' playing status. "Back soreness" would keep Benny on the bench once again. To be fair, we didn't reach out to Simmons or his camp for comment regarding his injury status.
However, we are of the belief Simmons was never going to play. When the season is on the line, Simmons has a reputation for not delivering. Exhibit A is the 2020-21 NBA Playoffs.
Exhibit B is the Twitter storm that erupted after the injury announcement was made.
Here are just a few of our favorites.
Enough is Enough with Ben Simmons! pic.twitter.com/y3WAlVVk3x

— Stephen A Smith (@stephenasmith) April 24, 2022
Cmon MAN!!! Out for Game 4 when it was rumored you were going to make your debut. This dude has ZERO competitive 🔥.. As small a chance as the Nets have to come back in this series, you still have KD and Kyrie, all you need is to win ONE game and take it from there.. #ManUp pic.twitter.com/Y5smcnQkqZ

— Reggie Miller (@ReggieMillerTNT) April 24, 2022
The Brooklyn bus is off to Cancun 🚌 pic.twitter.com/7lz2FNgLrC

— NBA on TNT (@NBAonTNT) April 27, 2022
#BenSimmonsGame5
So based on the recent history and Tweets, we could see #BenSimmonsGame5 trending next season.
For one, Simmons is not rushing to make his NBA return. And any sense of urgency clearly faded once he was ruled out for Game 4.
Remember, when it comes to NBA Playoff series, Game 5 is never guaranteed. This season, all but one NBA first-round series went beyond four games.
The Nets vs. Celtics was the only one that was a sweep.
So if this continues to be a trending topic, the belief could be Simmons is never going to play another NBA game.
Eventually, we don't know what season it will be, he will need to move from the bench to the basketball court. This "back soreness" excuse will only last so long.
Ben Simmons should go shopping for a new wardrobe
OK, we prefer leaving fashion advice to the E! and fashion magazines, but even us gambling writers occasionally sound the alarms.
During Saturday night's Game 3, Simmons was spotted on the Nets bench wearing bright orange pants and a purple jacket.
If Simmons was still dating Kendall Jenner, would this even be a topic of conversation?
For those who don't know what we're talking about, judge for yourself.
Most would agree, even if Simmons is physically and mentally ready to play next season, he will not suit up for 82 regular season games.
With the Nets appearing regularly on national TV, you know the cameras will focus on Simmons just like they do when Jay-Z and Beyonce are sitting in the front row.
Maybe if GQ does a profile of Simmons, it will trigger a whole new fashion sense.
Behind the scenes at Ben Simmons' $5-million South Jersey mansion
The PlayNJ team was seriously thinking about driving around Moorestown to see if we could find this $5-million mansion that Simmons supposedly called home (we know for a fact he owned other properties).
Having an address, or even street name, would've helped. And we are not expecting an invite anytime soon.
According to the LA Times, he paid $2.275 million for the digs back in 2019. As of last fall, it was on the market for $5 million. The place supposedly has five bedrooms, 5.5 bathrooms, multiple bars and a gaming room. These are just some of the highlights.
At the very least, the place sounds like a great location to film the premiere episode of the untitled Ben Simmons reality show. We hear networks hesitated picking it up, fearing that the star of the show would never show up.
As far as whether or not Simmons ever sold his Moorestown mansion, your guess is as good as ours.
The Durant, Irving and Simmons show
The biggest question surrounding Simmons and the Nets is: Can three stars coexist and finally fulfill those championship expectations?
We're talking Kevin Durant, Kyrie Irving and Simmons.
Brooklyn opened the current season with Durant, Irving and Harden, three bonafide all-stars, in the starting lineup. However, prior to the trade, the trio only played 16 games together. All three players dealt with injuries and Irving wasn't allowed to play home games as a result of the vaccine mandate.
However, it's 16 games more than Durant, Irving and Simmons have played together. At least until next season.
The bottom line is nobody can judge whether or not the Nets made a good trade until Simmons steps on the court.
We're not talking about practice. He needs to play actual games.
Expect Simmons' mental and physical health to be one of the big off-season stories.
Sorry Nets bettors, better luck next season
Frankly, the 2021-22 NBA season is one that has not lived up to the hype, at least from a NJ sports betting perspective.
The Los Angeles Lakers didn't even make the play-in round of the NBA Playoffs.
And the Brooklyn Nets just looked out of sync against the Boston Celtics. There are probably a lot of future bettors out there who are not too happy this week.
All it takes is one look at the Brooklyn Nets championship odds provided by DraftKings Sportsbook:
Here is what Johnny Avello, the director of race and sportsbook operations for DraftKings, had to say about the Celtics-Nets series:
"Seeing the Celtics win the series wasn't too surprising since they played some of the best basketball in the league down the stretch. What was a bit unexpected, was the Nets dropping four straight. The outcome might have been different if Simmons was available, giving the Nets a deeper bench. The Celtics now move up to the number two spot to claim the NBA crown at +370."
Talk about a reversal of NBA betting fortune. At one time this season, Boston's odds to win the title were +4000. Now they have the second best odds (+380) to win it all. The Golden State Warriors at +300 are the only team with shorter odds.
For those wondering where the Philadelphia 76ers fall, the answer is not even close (+1700).
What kind of impact will Ben Simmons have on the 2022-23 NBA futures?
Well, that all depends if and when he finally plays again.