Garden State gamblers are among 23.2 million Americans ready to bet a total of $4.3 billion on Super Bowl 55.
The American Gaming Association (AGA) shared the projections earlier this week via a press release.
According to the AGA, a record 7.6 million will bet with online sportsbooks this year, up 63% year-over-year.
Sunday's matchup is between the Kansas City Chiefs and Tampa Bay Buccaneers.
Here is a closer look at the research as we countdown to the 6:30 p.m. kickoff.
The possibility of making sports betting history
It's no secret the bulk of the Super Bowl betting handle will come via mobile apps. In the Garden State alone, out of the $6 billion wagered in 2020, nearly 92% of it was online.
And this is just from one state. Legal sports wagering is now operational in 21 jurisdictions, and the bulk of them offer online options. Here are some of the other key markets:
Nevada
Michigan
Pennsylvania
Illinois
Tennessee
Indiana
Virginia
Keep in mind, Michigan and Virginia just launched mobile betting two weeks ago.
"This year's Super Bowl is expected to generate the largest single-event legal handle in American sports betting history," said AGA President and CEO Bill Miller.
"With a robust legal market, Americans are abandoning illegal bookies and taking their action into the regulated marketplace in record numbers."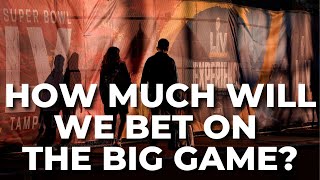 Survey explains betting breakdown
Results of a Jan. 25-27 survey by Morning Consult on behalf of the AGA are telling. The survey included a national sample of 2,198 adults.
It shows shifting betting patterns amid the COVID-19 pandemic:
1.4 million Americans plan to bet in-person at a sportsbook, down 61% from 2020 (NJ retail sportsbooks are currently limited to 35% capacity).

1.8 million people plan to bet with a bookie, down 21%.

4.5 million Americans plan to place a pool, squares or similar bet, a 19% decrease.

11.9 million Americans plan to bet casually with friends, down 18%.

56% of bettors plan to bet on the Chiefs while 44 % plan to bet on the Buccaneers.
NJ sportsbooks were busy in 2020
Remember, Super Bowl 54 was much different for a number of reasons:
NJ sportsbooks were operating at full capacity
Social distancing guidelines didn't exist
Atlantic City casinos and NJ racetracks hosted parties
And as far as wagering NJ gamblers bet $54.2 million on the Big Game. In terms of NJ sports betting revenue, the 10 retail sportsbooks (now 12) and 17 ( now 19) apps lost a combined $4.2 million.
This time around many bettors will be rooting for the Chiefs, a 31-20 winner over the San Francisco 49ers last year, to produce another winning ticket.
While the Super Bowl handle is expected to be big, the AGA report highlights an overall increase in legal sports betting. Here are some of the key numbers:
More than $21 billion was wagered on sports in 2020, up from $13 billion in 2019.
This generated more than $210 million in state and local taxes.
Mobile wagering has accounted for 82% of legal sports wagers nationwide during the pandemic.
And out of all of them, New Jersey is No. 1. The Garden State continues to set records on a monthly basis, the most recent being December's $996.3 million handle.
AGA + responsible sports betting
Previous AGA research, according to the release, has shown consumer confusion regarding the legal status of many online sportsbooks.
And, 65% of the expected Super Bowl betters feel it is important to use a legal, regulated sportsbook for their bets.
"This data is an encouraging sign that our efforts to ground the expansion of sports betting in responsible gaming is taking hold," Miller said. "Responsible gaming is core to legal sports betting's long-term success, and this is borne out by continued demand for consumer protections only available in the legal market."