Atlantic City history is currently being rewritten. Unfortunately, it's a chapter many would like to forget as quickly as possible.
Little did we know that when 2020 started, a global pandemic would almost completely shut down the city's tourism industry.
All nine Atlantic City casinos turned off the lights on March 16. And Gov. Phil Murphy has yet to announce a reopening date.
No matter how we spin it, the current year likely will forever be remembered as the longest closure in Atlantic City history.
And the sad part is the industry was gaining momentum and evolving rapidly. New additions, new companies, new ideas … all are woven into the fabric of New Jersey's gambling history.
The coronavirus deflated a 21-month winning streak.
So when the casino doors finally swing open again, how long will it take Atlantic City to recover? The question is a tough one to answer without knowing what restrictions will be in place or how long those restrictions will last.
Call it the latest and most challenging chapter in the Atlantic City gambling saga.
Here is a look back at some of the other obstacles the industry has overcome.
Atlantic City from the perspective of a longtime resident
Mark Giannantonio is one person with a front-row seat to all of Atlantic City's ups and downs.
He has fond memories of growing up in the Ducktown section of Atlantic City. He described the pre-casino days as a "wonderful time" and said it was a "great town to grow up in."
Giannantonio remembers the days when Resorts and Caesars opened in 1978 and '79, respectively. Customers lined up along the wooden walkway waiting to enter.
While he was not quite old enough to legally gamble at the time, Giannantonio did get an up-close perspective of Resorts by working as a room service waiter.
"It was a different era. Resorts was the first casino outside of Nevada, so business was just incredible. If you can imagine, customers from every state were coming into Atlantic City to gamble, particularly in the Northeast."
And here we are, 40-plus years later. Giannantonio is now the president and CEO of AC's oldest casino, Resorts.
Resorts and eight other properties are still in operation after a series of sometimes uplifting, sometimes tumultuous years.
Before the rise of Resorts, Caesars and Bally's
How is it that Atlantic City ended up becoming the Northeast's gambling mecca?
Well, prior to Resorts opening its doors in 1978, this town experienced its share of topsy-turvy periods (sort of like what we've seen with casino revenue over the past four decades).
Author and historian Nelson Johnson shared some insight into what the town was like prior to the rise of casinos. He authored Boardwalk Empire: The Birth, High Times, and Corruption of Atlantic City.
It was the source material for the HBO hit drama Boardwalk Empire. The show centered around the character of political boss Enoch "Nucky" Thompson, a fictionalized version of Enoch "Nucky" Johnson (no relation to the author). The time period of Boardwalk Empire is from 1854 to 1976.
Author Johnson touched on some of the rougher times.
Not surprisingly, he said, the Great Depression hurt Atlantic City badly. And things didn't get any better after World War II. He said AC "struggled with the '50s terribly."
"[AC] started bleeding people and bleeding visitors. Then in the '60s it was just a nightmare in terms of the number of people leaving town and the number of people not coming to vacation."
And a resort town that fails to attract visitors needs a solution. Enter legalized casino gambling (New Jersey was the first state to offer it outside of Nevada).
But turning the concept into reality took time.
The first referendum went to a public vote in 1974 but failed to pass in 19 of the 21 counties. The legislation did not specify that the gambling halls would be located in AC.
The second referendum, which passed in 1976, included an Atlantic City restriction.
And the rest is history.
Timeline of Atlantic City gambling history: a brief look
Welcoming gamblers at Resorts Casino
Resorts was the first in line. Back then, building a casino-hotel property didn't require borrowing billions.
The developers used the former Chalfont and Haddon Hall, which back in the day were used as Quaker rooming houses. Besides the cheaper price tag, it eliminated a long and drawn-out construction timeline.
On May 26, 1978, at 10 a.m., Resorts International welcomed the first gamblers in Atlantic City history (more were lined up on the Boardwalk). The original casino floor was 33,735 square feet, with 84 table games and 893 slot machines.
Then-New Jersey Gov. Brendan Byrne was there for the ribbon-cutting ceremony. Entertainer Steve Lawrence did the ceremonial first roll of the dice (similar to the first bet at a sportsbook).
On that day, Byrne gave Atlantic City its new calling, as recorded in the Press of Atlantic City archives:
"I think the challenge to Atlantic City is to take the momentum that exists this morning and keep it. … It's a new lease on life. I'm satisfied we have the human resources. We're going to meet that challenge. A great deal depends on what we do at the local level and at the state level to keep the excitement."
It didn't take long to notice the high demand for East Coast casino gambling.
"The excitement was huge because it was the only place in the nation other than Vegas where gambling was legal," said Johnson. "You've got this enormous population in the northeast corridor where you've got a lot of people who are gambling illegally and many more that would like to gamble legally."
He noted that even if it was raining, people would still stand in line on the Boardwalk to get inside.
Resorts has gone through its share of ownership changes over the years and at one point was even in danger of closing.
But while others have failed to survive, this property still stands 42 years later. The current Resorts casino floor exceeds 80,000 square feet, with more than 1,500 slot machines.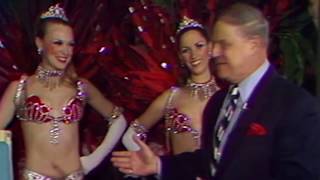 Atlantic City casinos that never got off the ground
Of course, we cannot forget about the countless casino projects that never got built. Several of these concepts included renderings.
What seemed like great ideas on paper did not pan out for one reason or another. Instead of highlighting every abandoned project, here are five of the bigger ones:
1. Le Jardin
Remember when Steve Wynn was talking about making a grand return to AC with this French-themed project? He was the mastermind behind the original Golden Nugget.
Le Jardin dates back to his Mirage Resorts days (prior to the MGM takeover). The controversial AC Connector was built to pave way for the project.
While the project never came to fruition, the land did not go to waste. The MGM-owned and market-leading Borgata Atlantic City calls it home now.
2. MGM Grand Atlantic City
MGM may not have the same presence at the Jersey Shore that it has on the Vegas Strip.
The MGM Grand Atlantic City proposed project was going to be developed on the vacant lot between Borgata and Harrah's. Back in 2007, the company announced plans for a huge Atlantic City resort with a price tag in the $4.5-$5 billion range. It included three hotel towers.
More than a decade later, the lot remains empty.
3. Hard Rock Atlantic City
Hard Rock International made its highly anticipated Atlantic City arrival in 2018. But prior to purchasing and rebranding the former Trump Taj Mahal, Hard Rock had other AC plans.
At one point, there was talk of building a boutique hotel-casino on the opposite end of the Boardwalk.

4. Penn National
Believe it or not, the Pennsylvania-based company has never built or owned an Atlantic City casino. At one time back in 2008, it considered purchasing Bader Field for future casino development.
The deal never went through. The former airport sits unused, still waiting for that next great idea.
5. Pinnacle Atlantic City
Do you recall the 2007 implosion of the Sands Atlantic City? The still-vacant property is located just steps away from Bally's and the Boardwalk.
This grand spectacle, complete with fireworks and music, set the stage for a proposed $1.5 billion resort called Pinnacle Atlantic City. "Proposed" is the keyword, though, as the Las Vegas-based company pulled out of the project in 2010.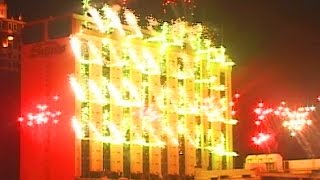 The Sands of a bad decision
Some of these failed projects could have helped to transform AC into more of a year-round destination.
However, out of all the projects mentioned above, Johnson, without hesitation, singled out demolishing the Sands as "a really good example of plain stupidity in plain words."
You see, besides the former Sands, the historic post office at Pacific Avenue and Dr. Martin King Jr. Boulevard was knocked down at a later date.
According to Johnson, the would-be developer wanted "to create a better right of way to this new casino that never got built."
"The post office building was a wonderful building. And Stockton [University] had told the CRDA [Casino Reinvestment Development Authority], 'Hey, we would like to take that building and turn into a museum.' And CRDA knocked it down because they felt they needed to accommodate this developer that never came to be."
A decade later, the vacant Sands property (sandwiched between Bally's and The Claridge) remains a barren lot. It stands as a reminder of what was and what could have been.
Atlantic City: From boom to bust
Ironically, prior to Pinnacle pulling out of the project, Atlantic City casinos were recording their best numbers ever. In 2006, the same year the Sands closed, casino revenue reached an all-time high of $5.2 billion.
All of it came from slots and table games. There were no online casinos, no legal sportsbooks, just a dozen casinos in their heyday.
And 2006 was the same year as the state-mandated three-day shut down as a result of the budget not being passed. Of course, the golden years of Atlantic City were prior to the Great Recession that started in the latter part of 2007.
But a much bigger problem was looming on the horizon. Atlantic City was about to lose its East Coast casino gambling monopoly.
Mohegan Sun at Pocono Downs opened its casino floor in November 2006. But this was just the start, as the key Philadelphia feeder market was busy getting gambling halls operational, too.
Sands Bethlehem and Parx Casino opened in 2009.
SugarHouse followed in September 2010.
Valley Forge Casino Resort followed in 2012.
Today, Pennsylvania is home to 12 casinos, with a 13th under construction.
Plus, other feeder markets, such as New York, Massachusetts and Maryland, now have legal gambling.
2014: A very bad year for Atlantic City
The competition from neighboring states was just the tip of the iceberg. Atlantic City, the once-booming casino town, suddenly found itself fighting for survival in 2014.
That year, the 12-casino market shrunk to eight. Trump Plaza, The Atlantic Club, Showboat and the massive north-end property called Revel all closed.
The latter property (which reopened in 2018 as Ocean Casino Resort) will likely forever be remembered as the biggest bust in Atlantic City history.
The project came with a $2.4 billion price tag and barely made it two years. It opened on April 2, 2012, and closed on Sept. 2, 2014.
Looking back, while AC enjoyed several successful years, the plans were there to create something much more spectacular. All the unbuilt properties, the ideas, the attempts to keep Atlantic City relevant … they were all there.
Johnson calls it missed opportunities.
"Things that should've been built weren't built, and things that shouldn't have been built were built. It's a crazy sort of thing," he said.
He adds that the AC casino industry is doing a little bit better, but "there still is a long way to go."
"Here we are, talking 40 years after the approval of casino gambling, and you have sections of the town that look like gambling never even happened. That's really a sad thing. The story should have never turned out this way. There should have been a lot more positive development in the town than there has been."
It's not perfect yet. While the industry is seeing better revenue days and casinos have enjoyed months of on-and-off progress (before the pandemic), the properties themselves are still in flux.
And with 2014 in the history books, the industry has continued to evolve.
Atlantic City and a new era of gambling
Atlantic City is in the process of recreating its image. What was once strictly a brick-and-mortar business has now expanded to mobile devices and web browsers.
Online gambling apps are a huge part of the evolution. The industry is itself a billion-dollar win for the state. While casinos were closed during the COVID-19 pandemic, online gambling revenue surged in New Jersey to $80 million in April.
Another big part of the evolution is sports betting, which not only is garnering attention as a new online product but also is bringing in added dollars (and foot traffic) to the land-based casino partners.
And on the land-based side, the 2018 additions of Hard Rock and Ocean Casino Resort have not forced any of the competitors out of business—yet.
What once was a gambling-centric town with regular appearances by Frank Sinatra and Tony Bennett continues to evolve into something different.
Giannantonio continues to watch it unfold firsthand and remains positive.
"The difference today is there are a lot more properties (and) gaming is all over the country, so to go and enjoy a day or two at gaming establishment is completely different. There are so many full-size resorts all over the country, even in Atlantic City," he said.
"The market really has evolved from being very gaming-centric to gaming and nongaming. There are so many more nongaming amenities."
The road back for Atlantic City casinos is a challenge the likes of which New Jersey has never faced before.
Will it still generate $2-$3 billion annually post-pandemic? Possibly. But even when the properties do reopen, they will not be operating at full capacity.
Sure, the town may not have lived up to those grand visions from three and four decades ago. And 2020 likely won't be the golden year many had hoped for.
But at the same time, it's hard to ignore the fact that this is still a thriving industry. And all of it is based out of one small beach resort town.