FanDuel NJ Sportsbook will pay out a hefty tab related to dozens of disputed soccer bets.
It's the outcome of a Thursday ruling from the New Jersey Division of Gaming Enforcement (DGE).
According to ESPN.com, the incident in question took place in mid-July and involved wagers on MLS, the Premier League, La Liga, and Serie A soccer games.
In essence, thousands of dollars were wagered over four days in the state. That equals a potential payout of more than $100,000.
FanDuel + DGE address the soccer palp
FanDuel issued a statement on the DGE ruling:
"Yesterday, the DGE ruled that a total of 10 online customers and one retail customer who placed wagers on erroneous soccer markets should be paid out after an investigation into a new bet type that was installed incorrectly resulting in erroneous lines being made available to customers.
"FanDuel Sportsbook appreciates the DGE looking into this matter on our behalf. We regret that this error happened, believe it is important for customers to know that there is a review process for these issues, and thank the DGE for their collaboration in the matter. Customers impacted will receive their winnings in their online accounts immediately, and our retail customer has been contacted to come into the Meadowlands to receive his winnings."
The DGE shared a statement as well, addressing voided wagers, errors, and the protocols for vendors in the state:
"DGE's general policy is to not automatically void wagers when errors occur on the part of sports wagering operators. Although operators are free to request that those wagers be voided after patrons have placed bets, DGE treats those requests on a case-by-case basis. This practice encourages operators to have appropriate controls in place to avoid offering erroneous sports wagers, and they reinforce the integrity of sports wagering in New Jersey and confidence in the industry by the public."
What happened with the MLS bets at FanDuel Sportsbook?
This is one of those years NJ sports betting customers will never forget.
A global pandemic forced a monthslong shutdown of the NBA, NHL, and MLB.
During the Major League Soccer restart, an erroneous line, or palp, raised a red flag with the DGE.
For a bit more detail about palps (and other gambling news), watch the video below: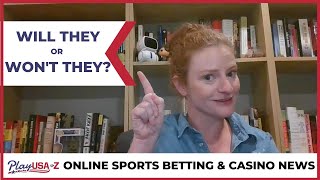 One of the games in question involved the July 16 matchup between FC Cincinnati and Atlanta United. FanDuel posted a pregame line of Cincinnati +5.
If the line seems high for a soccer match, well it is. Cincy ended up winning the game, 1-0.
And reports surfaced that FanDuel Sportsbook did not want the Garden State market to stay at that price. The operator held off paying out wagers following the game in question.
The payout delay prompted an investigation by the DGE.
The voided bets also occurred in Indiana, where FanDuel Sportsbook operates. In that state, regulations allow sportsbooks to cancel wagers in the case of "obvious error" and at the licensee's discretion. However, the Indiana Gaming Commission is investigating the matter. It has not made any ruling yet.
Overall, FanDuel Sportsbook had strong July
Last month's soccer betting controversy is yet another blip on FanDuel Sportsbook's overall performance in the state.
The Garden State's market-leading sports betting app is coming off an extremely strong July. Meadowlands Racetrack, FanDuel's land-based partner, reported a whopping $14 million in online and retail revenue.
So FanDuel and PointsBet NJ are responsible for nearly half of the total $29.5 million in revenue. Play NJ understands that FanDuel accounts for the bulk of the Meadowlands revenue.
And as a whole, NJ sports betting handle jumped to $315 million.